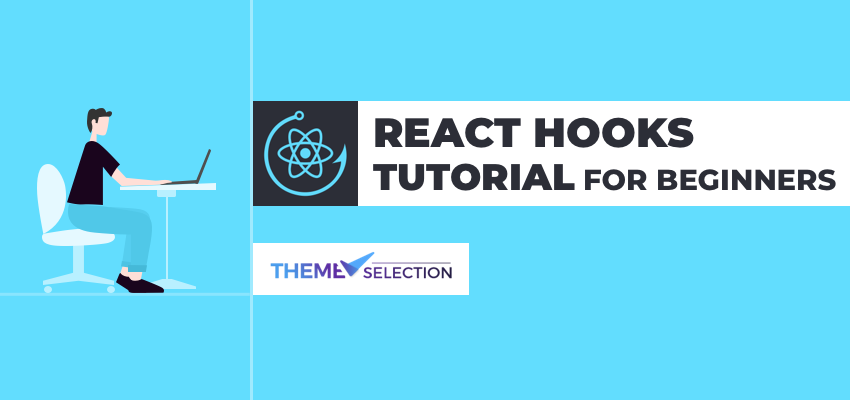 Are you looking for React Hooks Tutorial For Beginners? Then here you'll get some of the best tutorials regarding react hooks.
What are hooks?
Hooks are the new feature introduced in the React 16.8 version. It allows you to use state and other React features without writing a class. Hooks are the functions which "hook into" React state and lifecycle features from function components. Also, it does not replace your knowledge of React concepts.
Why Hooks?
We know that components and top-down data flow help us organize a large UI into small, independent, reusable pieces. However, we often can't break complex components down any further because the logic is stateful and can't be extracted to a function or another component. Sometimes that's what people mean when they say React doesn't let them "separate concerns."
These cases are very common and include animations, form handling, connecting to external data sources, and many other things we want to do from our components. When we try to solve these use cases with components alone, we usually end up with:
Huge components that are hard to refactor and test.
Duplicated logic between different components and lifecycle methods.
Complex patterns like render props and higher-order components.
In this case, Hooks are our best shot at solving all of these problems. Hooks let us organize the logic inside a component into reusable isolated unitsHooks are functions that let you "hook into" React state and lifecycle features from function components. Hooks don't work inside classes — they let you use React without classes.
Advantages of Using Hooks
The main problems which were solved by the release of hooks in React 16.8:
Wrapper Hell
Classes
Side effect
Apart from this following are some of the Pros of hooks
A better alternative to the common design patterns.
Easy to test and maintain (functional components).
Create re-usable, isolated components to avoid redundant logic.
Easy to use and write and co-locate.
Here we have gathered the best react hook tutorials for beginners to help them start with the hooks easily. Before you start the collection you can check Vuexy React Admin Template. It is the most developer-friendly & highly customizable React Admin Template. It is based on Create React App, Redux, React Hooks & Reactstrap BS4.
Basic Hooks
Following tutorials mainly deals with the basics.
useState, this is a hook that allows you to use state inside of function component
useEffect, this is a hook that allows you to perform side effect in such a way that it replaces several life cycle methods
useContext, accepts a context object (the value returned from React.createContext) and returns the current context value, as given by the nearest context provider for the given context. When the provider updates, this Hook will trigger a rerender with the latest context value.
Some tutorials cover additional hooks as well. So, let's get started now.
Youtube Tutorials:
Following are some of the best video tutorials which will help you kickstart your project with react hooks.
This is a set of 33 Video tutorials that deals with react hooks. It includes video tutorials with examples.
If you want to learn React Hooks – a feature that allows you to work with functional React components only, then this crash course is for you.. Here you'll dive deep into useState(), useEffect(), and custom hooks.
This is a detailed video tutorial by Ben Awad. This tutorial covers useState, useEffect, useRef, useLayoutEffect, useCallback, useMemo, useReducer, and useContext.
In this tutorial you'll get a detailed overview of What is React,  React Components,  Class Components vs Function Components,  React Hooks, Functional Component,  JSX, Render Components, Create React App,  Props,  Events in React, State,  React Developer Tools,  Styling in React,  State as Props,  Loop with Map,  The key Prop,  Reduce,  Update  State, Styling the Components,  useEffect.
This is a set of 21 video tutorials that deal with react context and hooks.
Blogs/Article Tutorials
Following are some of the best articles, blogs tutorial in detail.
Here you'll learn about using the react hooks such as built-in React Hooks like useState and use effect etc with ease
In this tutorial, you'll understand the following in details with examples
How hooks works
Migrating from lifecycle methods to hooks
React Pirate
In this tutorial, you are going to explore react and develop a custom Hook to manage global states an easier-to-use method than Redux, and more performant than Context API. This tutorial also consists of practical examples as well.
In this tutorial, you'll learn how to fetch data in React with Hooks by using the state and effect hooks. You will also implement your custom hook for the data fetching that can be reused anywhere in your application or published on npm as a standalone node package.
By the end of this article, you will learn:
What are hooks?
Why were they implemented in React?
How are hooks used?
Are there rules to using hooks?
What is a custom hook?
When should I use custom hooks?
What are the benefits of using custom hooks?
This is an intermediate-level tutorial for React developers that have a basic understanding of:
React dataflow
The useState and useEffect hooks
Global state management tools and patterns (like Redux and Flux)
The React Context API
Here you'll learn how to use custom React Hooks to build forms that require half the code to write, are reusable, and are much easier to read.
This tutorial will help you fork the code at any point as you'll learn about everything from the basics all the way to advanced hooks usage examples such as useReducer for managing a list of data. This guide also provides background on the history of React and its concept of state management.
This tutorial provides examples of usestate, useRef, useEffect.
In this tutorial you'll learn:
how to use React hooks
how the same logic would be implemented in React class components
In this tutorial, you are going to learn and understand what React hooks are, the basic React Hooks that are available, and also examples of how to write them for your React applications. In the process, you will also get to know about some additional hooks that were shipped with React 16.8 and also how to write your own custom, React Hooks.
In this article, you'll get to know two of the most used hooks in React: useState and useEffect.
Books:
Following are some awesome books for react hooks tutorial.
Conclusion:
So, this was the collection of React Hooks Tutorial For Beginners 2021.  Here we have gathered some of the most useful tutorials that will help you to begin with react hooks.
In this collection you'll find, blogs, articles, books, and video tutorials that will help you with the react hooks and how to use them properly. Each tutorial is well explained.
So, keep this collection in check as it will help you to start with react hooks with ease. Also, don't forget to share this collection.