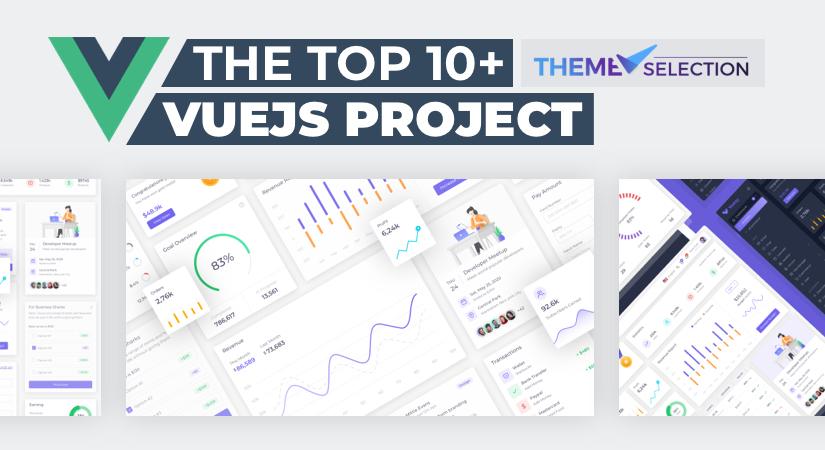 Looking for VueJS projects for inspiration? Then here is the list of the top 15 open-source VueJS project in2021. These Vue JS projects will help you understand the structure of vue based projects. Before we start the list, let's first know a little bit about VeJS.
What is VueJS?
VueJS is a progressive framework for building user interfaces. It is designed from the ground, and can easily be a library and a framework depending on your goals. Besides, it also consists of a core library that focuses on the view layer and an ecosystem of supporting libraries. Also, It is used by big companies such as Gitlab, Alibaba, Xiaomi, Adobe, Euronews, Nintendo, Grammarly, Codeship, Behance, and many more.
Well, Vue took the best features of other libraries such as two-way data binding & directives from Angular, virtual DOM implementation, templating syntax from React. Besides, the setup is quite simple. These factors make using Vue.js very comfortable. Seems like it has the purpose to become a JavaScript framework of choice.
Furthermore, Vue continues to grow in popularity and is rapidly being adopted by many developers, and Vue.js tools are popping up everywhere. This is not without reason: Vue's shallow learning curve, clear functionality-driven structure, and excellent documentation make it easy for novices to pick it up, and for more experienced developers to make a switch from other frameworks like React or Angular.
Before we start the list, you can check some collection of the best 5 tools for testing VueJS application, Bootstrap Vue Admin Template Free, and  Vuejs UI component libraries.
Now, let's have a look at the best VueJS Project in 2021
Best VueJS Projects
Materio Free VueJS Vuetify Admin Dashboard Template – is the latest most developer-friendly 🤘🏻 & highly customizable✨ Admin Dashboard Template based on Vuetify. If you're a developer looking for a Vuejs Admin Template enriched with features and a highly customizable look no further than Materio Free Vuetify Vuejs admin template🤩 . Besides, the highest industry standards are considered to bring you the very best Vuetify admin template that is not just fast🚀and easy to use, but highly scalable. Offering ultimate convenience and flexibility, you'll be able to build whatever application you want with very little hassle.
Furthermore, you can use this one of the best innovative free Vuejs admin templates to create eye-catching, high-quality, and high-performing single-page applications. Besides, your apps will be completely responsive, ensuring they'll look stunning and function flawlessly on desktops, tablets, and mobile devices.
Features:
1 Simple Dashboard, 1 Chart Library
Single vertical menu
Simple Light/Dark theme
Basic Cards, pages, and tables
Simple From Elements⚡
Single vertical menu
Also Available: Free VueJS Laravel Version

Koel (also stylized as koel, with a lowercase k) is a simple web-based personal audio streaming service written in Vue on the client-side and Laravel on the server-side. Targeting web developers, Koel embraces some of the more modern web technologies – CSS grid, audio, and drag-and-drop API to name a few to do its job.
GitHub: https://github.com/koel/koel
PageKit is an Opensource CMS that uses Vue.js and Symfony components. It is intuitive, flexible, and modular in design. If you want to build a website or an application, PageKit enables you to provide content in the right manner that perfectly fits your needs.
GitHub: https://github.com/pagekit/pagekit
Electronic publications are modern forms of information media. Eplee is an ePub reader that provides its users clear, distraction-free reading experience. The developers used Electron.js and Vue.js for the creation of this Vuejs project.
GitHub: https://github.com/Janglee123/eplee
Features:
Clean UI
Easy Navigation
Bookmark
Highlights
In Book search
Themes (Light, Tan, Dark)
Vuexy -Vuejs Admin Dashboard Template – is advanced among all bootstrap Vue admin templates. Besides, this template is highly responsive, clean, and well structured.  Vuexy bootstrap Vue admin template is laced with Vuejs. Furthermore, this graphically enriched Vuejs admin template is highly recommended by developers over the world for its user-friendly experience and speed. Also, It is the most developer-friendly Vuejs+HTML dashboard. Which includes 100+cards, 50+ Components, and many more.
In addition, Vuexy is RTL-ready and comes with UI/UX tools alongside many more amazing invaluable features, which make sure developers have the best experience. Moreover, we've also equipped the Vuexy admin template with highly distinctive and useful tools such as fuzzy search, bookmarks, floating nav bar, dark and semi-dark layout options, advance cards, data-table, and charts.
Features:
Based on BootstrapVue
Vue 3 Ready (Composition API)
Bootstrap 4.5.3 🔥
Laravel 8 🤩
Sketch & Figma files added
JWT Auth, ACL
Internationalization/i18n & RTL Ready
Evan You, who created Vue.js, also created VuePress, a static site generator. You can create a minimalistic and SEO-friendly site with Google integration using this tool. Your VuePress site will have multi-language support and will be using Vue, VueRouter, and webpack. Just as you use Nuxt for app creation, VuePress will help you build a static website.
GitHub: https://github.com/vuejs/vuepress
IView is a set of UI components that developers can use if they know Single File Components. It has got a friendly API and you can use it along with the Starter Kit. Although, iView does not support IE8 but has got excellent documentation.
GitHub: https://github.com/view-design/ViewUI
Features:
Dozens of useful and beautiful components.
Friendly API. It's made for people with any skill level.
Extensive documentation and demos.
It is quite awesome.
Supports both Vue.js 2 and Vue.js 1.
Faviator is a library for creating and using your own simple icons. All you need to do is to pass a configuration and choose the format for your file. JPG, SVG, PNG, etc. many formats are available. The website presents screenshots for every icon, and you can even choose any font from Google fonts.
Beep runs security checks on your website and keeps your passwords protected. It executes its functioning by comparing your credentials with the database that contains leaked information. Beep uses the SHA-1 algorithm that ensures security, and it doesn't store your login credentials.
GitHub: https://github.com/ModusCreateOrg/beep
Using this tool, you can create your custom data grid components along with the standard operations like- read, create, delete, and update. Handsonstable has got a spreadsheet look, and you can filter or sort your records.
Handsontable is easy to implement, flexible, and super customizable. You can extend it with custom plugins and edit the source code to adjust it to your product. Plus you get access to a comprehensive API, useful tutorials, and both community and commercial support.
You can finally work with large volumes of data without worrying about performance issues. Large companies and startups across industries use Handsontable to build applications critical to their business.
GitHub: https://github.com/handsontable/handsontable
Docsify is a documentation generator for your projects. There are several API plugins available with Docsify, and you can implement a full-text search with this tool. Check out its fantastic showcase list here. This lightweight tool has multiple theme options.
GitHub: https://github.com/docsifyjs/docsify/
Features:
No statically built HTML files
Simple and lightweight
Smart full-text search plugin
Multiple themes
Useful plugin API
Compatible with IE11
A lightweight, minimal app that runs on your local browser, and helps you keep notes. Everything is stored in your web browser's local storage. All the coding is done with Vue.js and the best part is everything is in the index.html file that is only 4Kb.
GitHub: https://github.com/vladocar/Minimal-Notes
Another lightweight and straightforward CMS is Directus, which is so good and famous among developers. The feature that makes this project stand apart is database synchronization. Besides, It stores your data in the form of the SQL database, and hence your app/website is always updated with every change you make. Also, Directus has got multi-lingual support.
GitHub: https://github.com/directus/directus
You can create your custom CMS using Twill, the open-source laravel package. Besides, Twill is a collection of prebuilt features and Vue UI components, using which you can create a flexible and robust design.  Furthermore, Twill helps you create a modern admin console that fulfills your publishing requirements.
GitHub: https://github.com/area17/twill
Twill offers:
No lock-in, create your data models or hook existing ones
Use it within your Laravel app or headless
Turn off features you don't need
No need to write/adapt HTML for the admin UI
Extend as you see fit
As the name suggests, CSSFX is a collection of CSS effects that you can apply to your project by just clicking the effect. Besides, It is click-to-copy. You can check the preview of each CSS effect before you use it.
GitHub : https://github.com/jolaleye/cssfx
Conclusion:
So, this was the list of some of the best VueJS project that you can take inspiration from. Each project is unique and offers amazing features and services.
Some of these VueJS projects are free resources that you can use in your project. Vuexy VueJS Admin Template is one of the most admired admin templates for responsive web apps. You can start your next project using it.
We hope you find this list helpful. Feel free to suggest other projects in the comment section below. Also, don't forget to share this list.