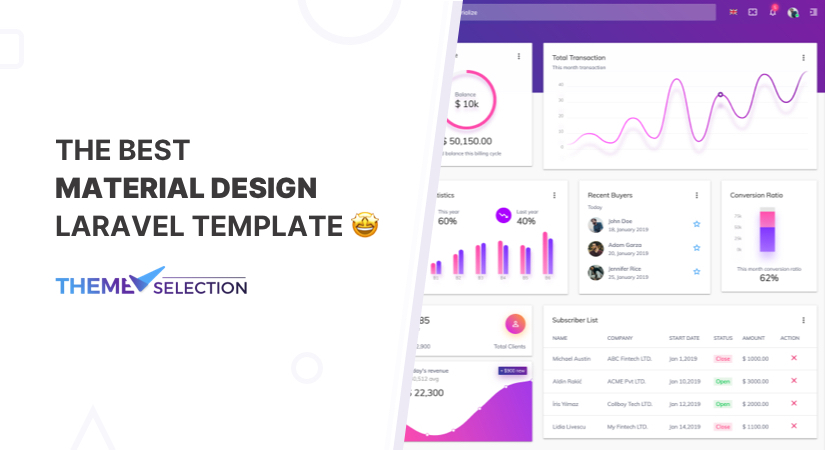 Are you looking for a Material design laravel template for your next project? Then you are in right place.
Talking about material design, it is a well-known fact that, this is designed by Google. That means lots of resources and excellent community support. Furthermore, it is a perfect choice for building web applications and admin dashboards.
Well, Laravel templates are one of the most loved choices of developers when working on sophisticated and complex web app development projects. Besides, Laravel templates also have the ability to boost the efficiency of web applications. So, if you have not used these templates, give them a try when working on a new project.
Thus, the combination of material design laravel templates is surely a good choice to develop an intuitive and responsive web app.
So, In this collection, we have jotted down some of the Material Design laravel templates available in the market that offers attractive color schemes, beautiful typography, and elegant design. These templates also come with a fine selection of features and components which further simplifies your web app development project.
You can check the collection of Laravel admin panel template download, and  Free Material Design Admin Template. Now, let's check out the collection of Material Design Laravel template 2021.
Materialize is the #1 selling material design laravel admin template. Furthermore, this is a Google Material Design Inspired UI with gradient colors, responsive design, and amazing support. Besides, it is the most trusted and complete Material Design Admin Template of the market. Thus, it will surely impress website designers who are in search of a highly responsive and user-friendly website template. In addition, you can use it for any kind of application like CRM, E-commerce back-end, Banking, Education, Analytics apps, Fitness apps, and more. Furthermore, it offers some amazing features as follows.
Features:
Icons: Material Design Icons
RTL Supported
Multi-Language Support
Vertical and Horizontal Menu
5 menu style variations
100+ HTML pages, 300+ components, etc.
It comes with a free Starter kit
Vuexy laravel+HTML is the most developer-friendly & highly customizable template. This template is a beautifully crafted, clean & modern designed admin theme and it works on different workable applications including Todo, Chat, eCommerce. Besides, this template provides advanced cards for eCommerce, Analytics, Statistics, Weather, Charts, Maps, and Interactive. Also, This amazing template provides  100+ pages including Profile, Knowledge Base, Search, Authentication, etc. Hence, it will surely impress website designers who are in search of a highly responsive and user-friendly website template. Vuexy also offers some amazing features as listed below.
Moreover, Vuexy offers some amazing features as listed below:
5 Workable applications
Multi-lingual
RTL supported
JWT Auth, ACL
Internationalization/i18n & RTL Ready
Figma and Sketch files included
Easy navigation
Custom-Built
Light and dark layout And many more.
Frest is a rising star in the world of material design Laravel templates. It is a highly responsive, visually enriched, and clean template. Also, it is upgraded with laravel 8+ support. Besides,  this template offers easy and endless customization. In addition, it is a multipurpose admin template. It is useful for developing any kind of application. Moreover, you can use it for developing apps like, cryptocurrency, E-commerce, Fitness,  CRM, etc. Furthermore, this template comes with amazing features like unlimited color options, 50+ widgets, 7 functional applications, and many more.
Features:
Laravel 8
Multilingual
Impressive Layouts
50+ Widgets
RTL support
7 Workable applications and many more.
The Arctic is clean, feature-rich, extraordinarily customizable & developer-friendly admin dashboard template. Besides, this template comes with Bootstrap, Vue with vuetifyJs, Angular with Material, React with Material UI & Laravel with Bootstrap versions. Furthermore, Arctic Admin Dashboard comes with stunningly designed equipped to apply dashboard interfaces, web page templates, components, plugins with Dark & Light color scheme & RTL.
Features:
RTL supported
4 different layout
Like and Dark Version
100+ screen
90 Components
Sofbox – Responsive Bootstrap 4 Admin Dashboard Template is a sleek, clean and powerful Saas, WebApp, Software admin template. Besides, with modern and stunning UI/UX elements, this template is a perfect package for any of your web projects.  Also, it is multipurpose and can be used for any kind of application like CRM, ECommerce, Educational apps, Cryptocurrency, etc. Furthermore, it offers the following features.
Features:
10+ home page layout
3+ Header style
Build With Bootstrap 4
Clean Code
Component-based structure
Hover Effects
Google map
Akavo is a modern dashboard template based on React Components and Material UI Framework. Besides, It's the most convenient template for developers, because of React Components, clean code, and detailed documentation, which allows you to build any projects easily. Furthermore, you can use it for Campaign Monitoring, Cryptocurrency, Banking System, CRM, Ecommerce and other types of web or mobile applications.
Features:
Material UI
React Boilerplate
Fully Responsive Layout
SASS Powered
60+ Pages
250+ UI elements
Free Icon Fonts
Reactify is a developer-friendly powerful reactjs template developed with redux, react hooks, redux-thunk, webpack 4, laravel, and bootstrap 4. Besides, it is fully responsive and supports RTL languages with an integrated language translation method. Furthermore, It provides ready-to-use components, widgets, and pages which makes it super easy to build a new admin panel as per requirement.
Furthermore, It comes with pre-integrated API methods that provide you the power to build your dynamic listing pages with ease. Also, directly usable widgets give you the flexibility to show multiple details on your dashboard and other pages. In addition, it has dashboards like Ecommerce, CRM, Saas, Agency, and News with ready-to-use widgets.
Features:
Unique dashboard designs
300+ UI elements
20+ Custom page
1000+ Font icons
Responsive and data tables
Charts and graphs
Vuely is a fully responsive admin template developed with Vuejs and VuetifyJs. It provides Laraval, Laraval Passport Authentications, Express js, and Angular 10 version. Besides, it comes with lots of pre-integrated features developed with an easy component structure including custom pages. Furthermore, it is developed with an approach to provide the developers with a hassle-free development experience. In addition, pre-designed custom pages and integrated features like charts, graphs, and data-tables provide you the power to develop your backend panel with ease.
Also, Vuely is translation-ready with RTL support. It also comes with multiple color versions along with dark mode which gives you design flexibility. Moreover, it has tons of dashboards for every industry like Ecommerce, CRM, Crypto, Web Analytics, Courses, Magazine, News, Agency, SAAS, and their helping pages as well.
Features:
API ready
Code splitting
Lazy loading
Firebase integrated
Auth0 included
Appwork is a responsive, creative, and customizable app/dashboard template based on the Bootstrap 4 framework. Besides, it offers dozens of customizable features, layout variations, theme skins, ready-to-use UI Kit elements, and a beautifully designed interface. Thus, this is the perfect solution for a huge variety of markets and business types. It also offers the following features that you can check.
Features:
RTL direction support
9 layouts
Responsive design
Clean style
Well-structured
SCSS & ES6 sources
Dark styling
Material styling
Material Dashboard Laravel is a free dashboard. Besides, this template comes with 60 implemented frontend components, which you can combine and modify to your liking using SASS files. Furthermore, every element has multiple states for color, style, hover, and focus. Also, this will help you save time while still enabling you to create a prototype or working dashboard. In addition, it offers the following features that you can check.
Features:
200+ elements, 15 plugins
27 example pages
Charts and notification system
Animation, ripples, and transition effects
Conclusion:
So, this was the collection of The Best Material design laravel template 2021. We have made this collection to make sure you get the best one for your upcoming project.
Well, Each template offers useful and unique features that can help you build a responsive project. Besides, all the templates mentioned here are highly responsive. Although, we recommend you Materialize – Material Design Admin Template, which is the most favored admin template by the developers.
Besides, In order to select the right admin template, it is necessary to set the priorities like which kind of features, components your project need, or which kind of UI you need. Thus, once you set your priorities for your project, it will be easy for you to pick up the right one. We are sure you'll find this collection helpful.
So, do share your suggestions and feedback. Also, don't forget to share this collection.