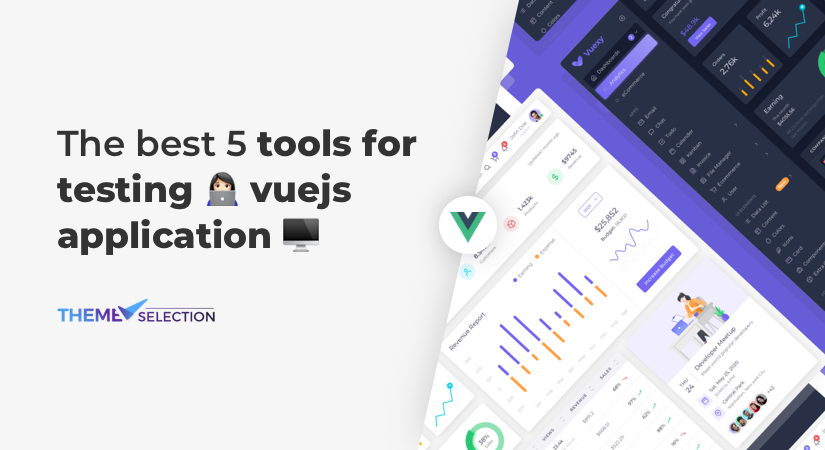 Want to know the testing process of the VueJS application? Then here is the article that deals with Testing VueJS applications. Before we start the article let's know why testing is necessary?
Why Testing is necessary?
Well, Testing helps you make sure all parts of your app work as expected. It gives you the confidence to ship often while being able to refactor later knowing you won't break anything.
It also improves the quality of your code and works as documentation. But while these are totally valid reasons to test as well, we'd rather highlight developer confidence – it's really the key thing (for us). Unit testing improves the maintainability of your code.
There are several types of tests.
Vue-test-utils is the official library for (unit) testing your Vue components. It works with any of the test runners below (and also others!). If you use vue-CLI, it can set your project up for unit tests with vue-test-utils – and also configure a testing framework like Jest. It also provides methods to mount and interact with Vue components in an isolated manner.
Jest is a well-liked JavaScript testing framework that comes packed with many goodies for developers focusing on simplicity. It's one of the fastest testing frameworks for Vue single-file components. Other than Vue, Jest works with other frameworks, libraries, and platforms like React, Angular, and Node. It is also compatible with Babel and TypeScript.
However, you need to use a separate package called Vue Test Utils to mount Vue components, and then Jest can be used to execute the components' unit test.
Apart from running tests, Jest comes with loads of other features like code coverage, mocks, and snapshot testing.
Well, performance testing is a testing mechanism to measure and identify all the aforementioned performance-related bottlenecks. Vue Performance DevTools is a browser extension. This extension aims to inspect the performance of Vue components. Besides, It statistically checks a Vue component's performance based on the measures collected by Vue using the `window.performance` API.
Some of the many uses of Vue Performance DevTools are as follows:
Unmount or remove the component instances which are not being used.
Inspect the factors which block or take more time after an operation has been started.
Inspects the component, which takes more time to load.
Cypress is a Javascript-based end-to-end testing framework that is built on top of Mocha. It also provides fast, reliable, and easy testing for anything that runs on the browser.
Now, modern web applications are a combination of various sub-components and systems. Thus, it is challenging to test and diagnose errors in these complicated applications by examining the functional flow. Therefore, End-to-end testing was introduced to address this issue, and with E2E testing, you can ensure the application's complete health from all perspectives.
It doesn't matter whether your application is component-based, uses frontend components, or uses server rendering; Cypress is independent of any particular framework. Besides, it stimulates the behavior of regular users as if they were using your application.
To make your testing experience truly painless Cypress team has put a lot of thought when designing this end-to-end test runner. Built-in recording, simple CI setup, robust API, and many other features make Cypress a developer-friendly E2E tool.
You can also write end-to-end tests for the Vue application using the official @vue/CLI-plugin-e2e-cypres plugin. Apart from testing E2E using Cypress, you can use it to perform unit tests and integration tests as well.
Mocha is a feature-rich JavaScript test framework running on Node. js and in the browser, making asynchronous testing simple and fun. Besides, Mocha tests run serially, allowing for flexible and accurate reporting while mapping uncaught exceptions to the correct test cases.
Also, it provides functions that execute in a specific order and logs the results in the terminal window. In addition, It also cleans the state of the software being tested to ensure that test cases run independently of each other.
While it can be used with most assertion libraries, this one is commonly used with Chai, a popular assertion library for Node.js and the browser. Furthermore, It is super flexible and therefore maybe a bit more complex to set up.
Conclusion:
So, here we listed down the best 5 tools for testing vuejs application. As there are a lot of tools and support available to help you set up your tests exactly as you want, these are the initial tools that you will need to do testings on Vuejs applications.
Tell us which one is your pick in the comment section below.