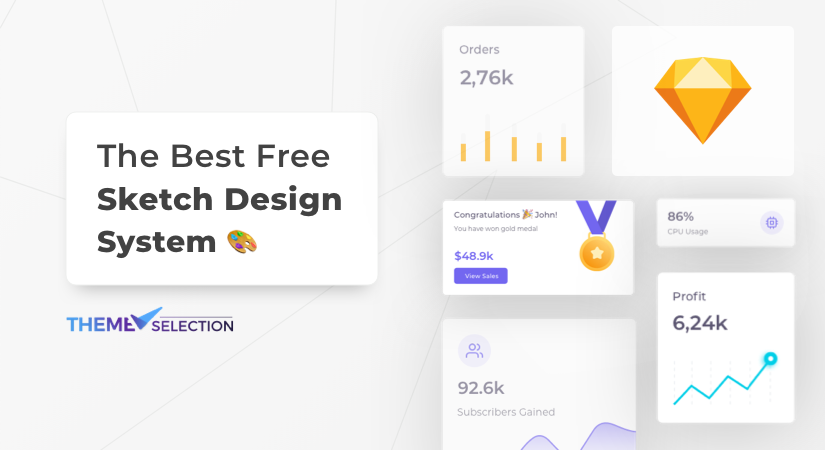 Looking for Sketch design systems for your next project? Then have a look at the collection of the best free sketch design system, 2022 here..!!
Well, there are many tools available to help you build a design system. Sketch, Photoshop, Adobe XD, Figma, Invision Studio, and others are some of the awesome tools to help you design faster.
Now, As we discussed in our previous collection of Figma design system template free, about design systems, the main purpose of a design system is to build a structure for you to iterate and create larger scale products faster and more efficiently.
The Best Free Sketch Design System
In this article, we'll introduce you to the best free sketch design systems that will surely save you time in building your next design system. You can also check the collection of the Free sketch admin template. Also, there is Exampler – Free avatar Library for Sketch that you can check
Now, let's check out some of the best free sketch design systems.
Vuexy Sketch Admin Dashboard kit is the most amazing UI Kit with hundreds of pre-built components and features. Besides, it offers 2 layouts, 30+ Pages, 40+ Widgets, premade grids, and many more. Thanks to the pre-prepared guides and symbol structure, you can create unique and amazing projects without wasting time.
Furthermore, it has a Clean & Minimal Design. In addition, it is highly responsive and easily customizable. Also, it comes with super trendy google fonts. organized components, symbols, and a set of icons.  In addition, you can use it for any kind of application: Project Management, eCommerce, CRM, Analytics, Fitness, or any custom admin panels.
Features:
500+ Symbols / Components
2 Dashboard
6 Layouts
9 Applications
30+ Pages
40+ Widget
15+ UI Elements
10+ Form Elements
15+ Charts
Frest dashboard UI kit is compatible with Sketch, Figma & Adobe XD. It comes with a flexible & easy structure which will help designers to get started quickly. It also includes a well-documented file for usage. Besides, It is super flexible, clean & minimal design with unlimited possibilities.
Furthermore, It includes 5 layouts with organized layers structure, a Style guide, 50+ elements, 60+ components, 40+ charts, 2 dashboards, 7 Apps & many more. Furthermore, Frest dashboard UI kit design can be used for any type of web application: Project Management, eCommerce, CRM, Analytics, Fitness, or any custom admin panels.
Features:
Edit Invoice
Todo Application
E-Mail Application
50+ Elements
60+ Components
40+ Charts
Sketch Bootstrap UI Kit comprising of 300+ organized Bootstrap 5 components built with atomic design system & smart layout. Kick start your next Sketch project Just drag and drop pre-made components from the Assets panel
Features:
Smart Layout
Resize any components horizontally or vertically
300+ organized Bootstrap 5 components built with atomic design
Easy to customize
Well, Eva is a free and Open Source Design System for Sketch released by the Akveo team. Besides, it is a great resource to get started with a consistent design project. Also, It is very easy to customize and much more than just a UI kit. In addition, it is structured in a way that you can easily drop in your colors, typography, and symbols to update everywhere have a clean sketch workstation.
Furthermore, it is a customizable Design System available for Sketch, with Mobile and Web implementations. The main strength of the Design System is the ability to adapt and integrate your brand making it ideal for any type of product.
Features:
750+ Symbols, 300+ Text and 250+ Layer Styles
Supported by Angular and React Native UI component libraries
Unique Color System
Core Design System Free Sketch. You can easily use the design. Designed and released by Ryan Sael. Besides, it is a starter UI kit for your next design project. Furthermore, it fits for projects of any scale, keeps visual consistency, and works faster. This is well organized and layered UI. All screens are available in the Figma file format. Feel free to download and edit to make them fit your design style.
Features:
200+UI Components
120+ Essential Icons
Available in dark
Atomize is a UI design framework that helps designers and developers design well-structured, scalable, and more consistent interfaces for the web. Besides, it is based on Atomic design methodology which has atoms and molecules as reusable building blocks. Furthermore, Atomize can help design teams and individuals to define a unified design language and style guide for a product.
Features:
120+ Symbol elements with infinite customization
Auto-Updating Style Guide
Type System
Theme Setup – Color, Gradients, Pastels, Outlines, and states.
Predefined UI components
Two examples of UI screens
Project Clarity is an open-source design system that brings together UX guidelines, an HTML/CSS framework, and Angular components. Besides, Clarity is for both designers and developers. Furthermore, Clarity's designs stem from continuous exploration and research. In addition, These designs are built into our HTML/CSS components, which can be used in any web UI, regardless of the underlying JavaScript framework.
Clarity also offers a set of well-designed and implemented data-bound components built on top of Angular, one of the most popular JavaScript frameworks in the industry.
Predix is a Sketch file that contains core layouts, components, colors, and fonts. The Design Starter Kit makes designing a consistent app simple. Besides, user interface components enable you to quickly and easily create Industrial Internet web applications. Furthermore, the Predix Design System is built using modern web component standards so developers can start using our building blocks with minimal ramp-up.
Also, the UI components are implemented using modern web application technologies, such as a powerful, scalable, and Sass-based CSS framework. In addition, it's framework-agnostic, so you can use Angular, Ember, Backbone, or pure Polymer.
Features:
Alerts
Data visualization
Buttons
Cards
Forms
Data table
Prime is a set of high-quality libraries for Sketch. The toolkit lets you create Mobile & Desktop Web UI with the speed of light. Besides, there are hundreds of components connected with customizable styles that let you unleash your full design potential design with the best Sketch practices. It uses Sketch Smart Layout & Symbol Overrides. You can adjust the style of a component very fast.
Furthermore, this design System Kit is created with a unique modular structure that lets you design conveniently. In addition, The Kit contains multiple sketch files so you can easily collaborate with your team or replace each file to fit your project needs.
Carbon is the design system for IBM Cloud products. It is a series of individual styles, components, and guidelines used for creating a unified UI. In its sketch version, it contains core visual styles, components, and patterns a designer needs to use Carbon as a framework for building product experiences.
Frames – It is carefully crafted components and Sketch design system; best practices combined into a most powerful web design system, that will boost your design workflow. Besides, the toolkit helps you to unlock hidden potential and discover techniques that will save you hundreds of hours on every next project making full use of the latest Sketch features.
Furthermore, it delivers better results with organized colors and typography, synced into a system to provide a single source of truth to customize your project.
Fluent is an open-source, cross-platform design system that gives designers and developers the frameworks they need to create engaging product experiences accessibility, internationalization, and performance included.
Conclusion:
So, here was the collection of the best free sketch design system in 2022 for your next project.  We have collected some of the best design systems available on the internet here. We hope you find this collection helpful.
Each sketch design system offers amazing and unique features that'll boost your workflow. So, all you have to do is prioritize your need and requirements in order to select the right one for your project.
Do tell us your favorite one in the comment section below. Also, don't forget to share this collection with your colleagues.