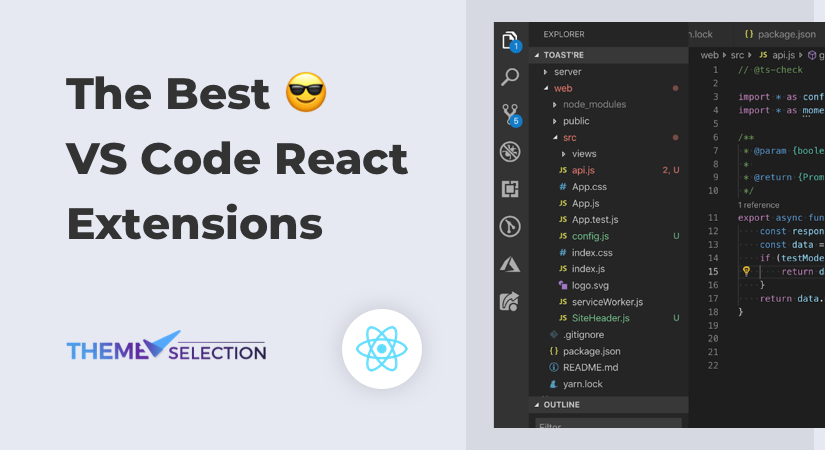 Need VS Code React Extensions for your upcoming project? Then here is the list of vscode react extensions 2022. Before we start the collection, let's get to know about react and vs code extensions.
About React:
The React JS or React is an open-source, front-end, JavaScript library for building user interfaces or UI components. It is maintained by Facebook and a community of individual developers and companies. It has grown as one of the best libraries in recent years for component-based GUI development.
React helps you to create an interactive user interface easily. No matter how complicated the data is, you can easily create interactive charts and UI elements smoothly with the ReactJs. Since it is created and maintained by Facebook, you needn't worry about the quality of how well it manages the complex codes.
While working with ReactJS then check the collection of React Boilerplate and React Project Ideas For Beginners. Also, ReactJS UI frameworks are a useful collection that you can bookmark.
What Is VSCode Extension?
Well, VS Code extensions are essential in modern web development. They are basically a source code editor for building modern web applications. Besides, VS Code extensions let you add debuggers, languages, and tools to your installation in order to support your development workflow. Also, their rich extensibility model lets extension authors plug directly into the VS Code UI and contribute functionality through the same APIs used by VS Code.
So, to help you choose the right extensions that will add more value than the resources they draw from your system, we've made this list of the best trending vscode react extensions available today. While some of these are well-known and commonly installed, others are highly recommended extensions by experienced developers who use Visual Studio Code.
One of the best features of Visual Studio Code is the tons of extensions offered by the marketplace. Mostly, these extensions were customized to meet your needs. Adding the right VS Code Extensions to Visual Studio can make your life as a developer so much easier.
Advantages of Using VSCode Extensions:
With support for hundreds of languages, VS Code helps you be instantly productive with syntax highlighting, bracket-matching, auto-indentation, box-selection, snippets, and more. Intuitive keyboard shortcuts, easy customization, and community-contributed keyboard shortcut mappings let you navigate your code with ease.
VSCode Extensions offers the following advantages:
Support for multiple programming languages: Supports multiple languages
Cross-Platform Support: Works on all browsers
Intelli-Sense: It can detect if any snippet of code is left incomplete
Extensions and Support: Usually supports all the programming languages
Hierarchy Structure
Enforcing best practices
Automate and many of the forgettable tasks in our dev process
You can check the Vuexy React Admin Template while working with react projects. It is the most developer-friendly & highly customizable React admin template. This template is a beautifully crafted, clean & modern designed admin theme and it works on different workable applications including Todo, Chat, eCommerce. Besides, this template provides advanced cards for eCommerce, Analytics, Statistics, Weather, Charts, Maps, and Interactive.
Features:
6 Workable applications
Based on create react app, reactstrap
Multi-lingual
Easy navigation
Custom-Built
CRA & Redux
JWT Auth & ACL
RTL ready and many more

VS Code React Extensions
Following are some of the best VS Code React extensions. This list consists best Extensions for ReactJs in VSCode. You can use these Best React Extension for VS Code for your upcoming react js projects to boost up your productivity.
Now, Let's start the collection of VS code react extensions to boost productivity.
This vs code react extension has a nightly version which is released on a daily basis at 9 PM PST on each day that changes occur. To avoid conflicts, if both extensions are installed – the only stable version will be activated. So to use the preview version it is needed to disable or remove the stable version and reload VS Code.
Besides, this VS Code extension for react provides a development environment for React Native projects. Using this react vs code extension, you can debug your code and quickly run react-native commands from the command palette.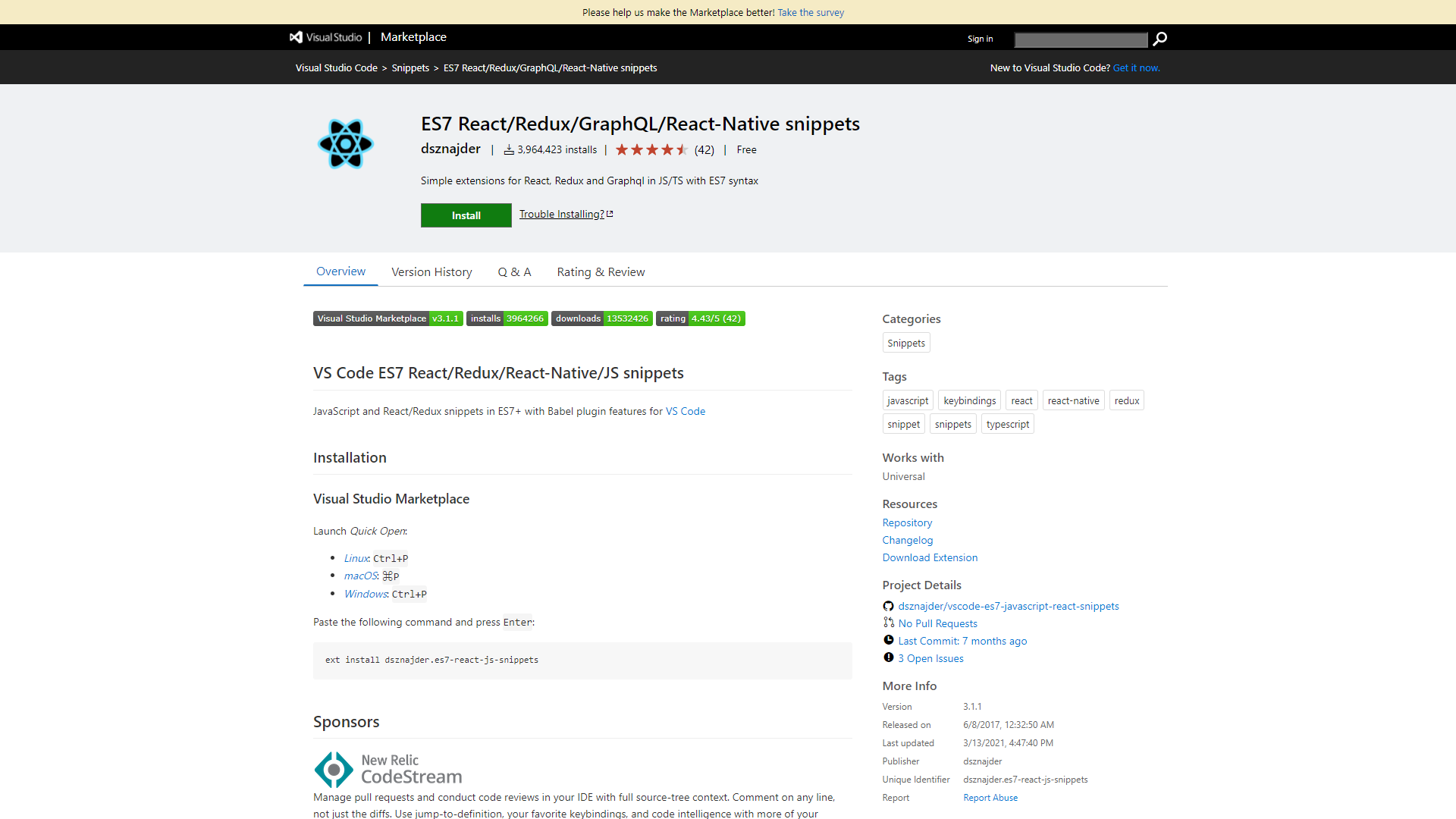 JavaScript and React/Redux snippets in ES7+ with Babel plugin features for VS Code.
This is an essential collection of React Snippets and commands. Besides, it is a very simple and one of the powerful vs code extensions for React Developers. Furthermore, this VS code React extension also provides simple shortcuts to perform things faster e.g importing files, creating components, etc. In addition, it has more than 1,220,000 downloads on the marketplace.
This react snippet vs code extension contains code snippets for Reactjs and is based on the awesome babel-sublime-snippets package.
Supported languages (file extensions):
JavaScript (.js)
TypeScript (.ts)
JavaScript React (.jsx)
TypeScript React (.tsx)
This React extension for vs code is very useful if you're working with React and TypeScript.  Furthermore, It provides you with useful code snippets for React in TypeScript. It is one of the best VS code react extensions.
Supported languages (file extensions):
TypeScript (.ts)
TypeScript React (.tsx)
VSCode React Refractor is a simple extension that provides JSX refactor code actions for React developers. Besides, it works with classes, functions, and arrow functions. Furthermore, it also provides the following features.
Features:
Extract JSX code parts to a new class or functional component
Supports TypeScript and TSX
Handles key attribute and function bindings
Compatible with React Hooks API
The next one on the list is React Pure To Class. It is an extension that allows you to easily convert pure React components into class components without having to rewrite the code by yourself.
This is the VS Code's extension that automatically generates PropTypes code for React components, like ReactPropTypes in the Jetbrains's Platform. Also a command-line tool, you don't have to be limited to use in vscode. If you want fully automatic PropTypes generation, You can also use it with lint-staged in your project.
Other Useful VS Code extensions for React:
ESLint statically analyzes your code to quickly find problems. ESLint statically analyzes your code to quickly find problems. It is built into most text editors and you can run ESLint as part of your continuous integration pipeline. ESLint fixes are syntax-aware so you won't experience errors introduced by traditional find-and-replace algorithms.
This extension contains code snippets for JavaScript in ES6 syntax for Vs Code editor (supports both JavaScript and TypeScript).
Supported languages (file extensions):
JavaScript (.js)
TypeScript (.ts)
JavaScript React (.jsx)
TypeScript React (.tsx)
Html (.html)
Vue (.vue)
It adds Intellisense-style completion to filenames, letting you easily type long path names. It removes the file extension by default if the statement is an import statement
This extension supports running npm scripts defined in the package.json file and validating the installed modules against the dependencies defined in the package.json.
Search node modules is a simple plugin for VS Code that allows you to quickly navigate the file inside your project's node_modules directory. Chances are you have the node_modules folder excluded from the built-in search in VS Code, which means if you want to open and/or edit a file inside node_modules, you can have to find it manually, which can be annoying when your node_modules, the folder is large.
Features:
Quickly navigate and open files, node_modules by traversing the folder tree.
NPM Intellisense autocompletes your npm modules whenever you write import statements in your Javascript. This can save you time from remembering the exact name of an npm module. I've used it in many of my projects and it's definitely just been something that I've become so accustomed to.
Features:
Import command
Scan devDependencies,
Show build in (local) libs
Lookup package.json recursive
Conclusion:
Well, VS Code extensions are incredibly helpful for developers as they boost productivity and save a lot of time..!! While working with reactjs projects you may need some. So, to save your time we gathered some of the best VS Code React Extensions 2022 here.
Each vscode react extension offers unique features and functionality. so, once you set up your requirements, you can choose any of these as per your need.
Do tell us which react vscode extension you are using. Also, tell us your suggestions for any other useful vs code extensions for reactjs.
We hope you find this collection helpful.