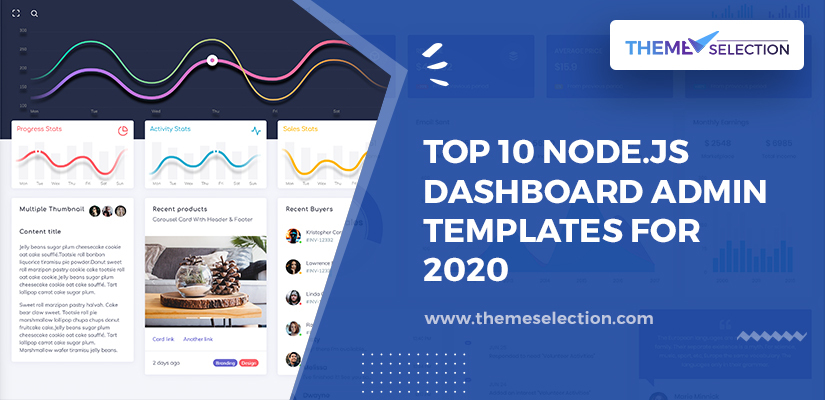 If you are looking for node.js dashboard admin templates then this collection is for you. When it comes to building  Admin Templates for backend workflow, the majority of developers will always go for Node.js technology.
Undoubtedly, Node.js has its own advantages that make developers' work easier. we will also explain to you why the majority of web developers choose Node.Js technology to develop backend applications.
Node.js is a Javascript run-time environment that helps in the execution of JavaScript code server-side. It is an open-source, cross-platform JavaScript that helps in the development of real-time network applications. It's easy to use and offers easy scalability from horizontal to vertical directions.
Node.js can be used to write both frontends3 as well as backend web applications in javascript at the same time. Apart from this, node.js provides full freedom to web developers to develop web applications and software from scratch which other technologies limit.
This technology advances many useful functions and features and is highly supported by a large and active web devs community which makes it the most useful technology for building real-time web applications.
In case you are looking for bootstrap admin templates then have a look at the amazing collection of Bootstrap admin template free download.  Not only this but  Free Admin Template for Web Application is no less in terms of components and responsiveness. You can also check the Vuejs admin templates for your upcoming project.

So let's explore our amazing collection of Node.js Dashboard Admin Templates below:🔥
Chameleon Admin Lite is a Free Modern Bootstrap 4 WebApp & Admin Dashboard Html Template elegant design, clean and organized code. Besides,  this free bootstrap admin template is useful for any type of web application: Project Management, eCommerce backends, Analytics, CRM, Fitness, or any custom admin panels. It comes with 2 niche dashboards.
This is not a Node. js template, Although it is a highly customizable admin template and can integrate with Node. js.
Materio Vuetify VueJS Laravel Admin Template – is the most developer-friendly & highly customizable admin template. This template is based on the popular front-end framework VueJS and back-end  Laravel. If you're a developer looking for a Vuejs Laravel Admin Template that is developer-friendly, rich with features, and highly customizable look no further than Materio. Besides, the highest industry standards are followed to bring you one of the very best laravel admin templates. Furthermore, it is not only fast and easy to use but highly scalable. Furthermore, offering ultimate convenience and flexibility, you'll be able to build whatever application you want with very little hassle.
In addition, you can build premium-quality single-page applications with ease with the use of this Vuejs laravel admin template. So, use this innovative vuejs laravel admin template to create eye-catching, high-quality, and high-performing single-page applications.
Features:
Pure Vue js, No Jquery Dependency
Created with Vue CLI
Utilizes Vuex, Vue Router, Webpack
3 Dashboard, RTL Support
Code Splitting, Lazy loading
API ready JWT Authentication flow
Access Control (even on CRUD operations)
Laravel Passport
Laravel Sanctum and many more
Mintos is a multipurpose admin template based on Bootstrap 4.3.1 & a Sass-based solid core framework that works well for all screen sizes and modern browsers. This admin template is compatible with browsers like IE11, Firefox, Safari, Opera, Chrome, and Edge. Besides, it comes with ready-to-use compiled packages.
Also, it is useful for any kind of web application like CRM, Project Management, Analytics, Statistics, or any custom admin dashboard template. Furthermore, Mintos has used some of the smart tools like Saas, NPM & Jquery. In addition, the package includes 60+ HTML pages, 1500+ Icons, 1000+ UI Elements, Table Examples, Apps Examples, Lots of Widgets, and much more. It is an ideal option for Node.js Dashboard Admin Templates.
Node.js MongoDB Starter Backend Bundle is the vital minimal of ngx-admin integrated with Node.js Backend. It contains JWT Authentication for both UI and Backend and Basic User Management. Besides, the dashboard is based on Angular ngx-admin, Express REST API, MongoDB, and other popular and useful technologies.
Light Blue React Node.js is React template integrated with Node.js backend and PostgreSQL. If you are planning to develop E-commerce apps, CMS, SASS web apps, CRM, etc then this NOde.js Dashboard Admin Template is the best option to start with. In Addition, it has ready-to-use working authentication, Product management components, and Social login.
Skote is a fully featured premium admin dashboard template built with Bootstrap 4, HTML5, JQuery, and NodeJs( EJS – Embedded Javascript Templates) with developer-friendly codes. Sketch files are also available with this template. Besides, Skote is an admin dashboard template that is a beautifully crafted, clean & minimal designed admin template. It comes with Dark, Light Layouts with RTL options, and Multi-language supported. Furthermore, You can build any type of web application like Saas-based interface, eCommerce, Crypto, CRM, CMS, Project management apps, Admin Panels, etc.
Sing App Vue Node.js Dashboard is complete both frontend as well as backend admin template. It is integrated with the Node.js backend and Postgres database. If you are planning to build SAAS, CMS, E-Commerce applications then Sing App Vue Node.JS Dashboard can be a perfect start. It will help developers save tons of time and money as it has various login methods, product management pages, and authentication are already implemented and ready to use. This Vue template is ready to be deployed to any hosting like Amazon, Heroku, etc.
Lexa is a fully-featured, multi-purpose admin template built with Bootstrap 4, HTML5, CSS3, JQuery, and Nodejs. It is built using the latest Node.JS version 9.11.2 with both layouts. Lexa is a professional-looking flexible multipurpose admin template that is useful to build any kind of website or web application. This admin template is compatible with browsers like IE10, IE11, Firefox, Safari, Opera, Chrome, and Edge. It's fully responsive and has a very clean user interface that comes with a huge collection of components, widgets, UI elements. It also has a few extra features like Horizontal & Vertical Layouts, login, register, error pages, Calendar view, Invoice with ready print button, Directory List page, Google maps, 6+ Charts Library, and much more
Veltrix is a premium and fully responsive admin template & starter kit with bootstrap version 4.3.1. It is available in both verticle and horizontal layouts with RTL support. Besides, it is a completely responsible bootstrap admin template that comes with frameworks like React.JS Redux, Laravel, Node.js, PHP, AJAX, and HTML languages. Furthermore, developers can build multiple apps with common components. It was created with reusable react components and bootstrap components with jquery. In addition, this template comes with PHP, HTML, CSS, and JS files in this package. Furthermore, this admin template is compatible with browsers like IE10, IE11, Firefox, Safari, Opera, Chrome, and Edge. It would be perfect for an app product showcase, startups, personal websites, and even web agencies.
Admiria is a completely responsible bootstrap admin template that comes with frameworks like React.JS Redux, Laravel, Node.js, PHP, and AJAX. Besides, It comes with a huge collection of customizable UI components and plugins, a clean user interface, and widgets. In addition, This admin template is also compatible with browsers like IE10, IE11, Firefox, Safari, Opera, Chrome, and Edge. It is also compatible with React.JS and Bootstrap 4.
Minton is build using Bootstrap 4.3.1, HTML5, CSS3 and jQuery. This admin template comes with 2 dashboards. Minton has a clean and clear structure, as well as an in-build authentication, registration, password pages using Django-all auth. Also, Minton supports both verticle and horizontal layouts.  Besides, the theme is fully responsive, very easy to customize, and the code is super easy to understand and gives power to any developer to turn this theme into a real web application. It also features a free landing page.
Sofia React Node.js is a new React template by the Flatlogic team, built with help of Node.js, React 17, Bootstrap 4.6, and PostgreSQL. Besides, the Sofia React dashboard is a perfect fit for any E-commerce projects, project management tools, SaaS, or CRM web applications. It is a rich and fully working "frontend + backend" solution, with dozens of nice UI elements, authentication options, and many more. The big plus of this template is that its creators share the source code, so you can tailor the functionality of the dashboard just as you need.
Conclusion:
The above collection of Top Node.js Dashboard Admin Templates is created after going through in-depth research and analysis of various node.js dashboard admin templates available on the web.
We have selected this node.js dashboard admin template after considering parameters like performance, usability, responsiveness, etc. I hope you will find the best alternative for your website or application from this collection.😊
Well, you will find each and every template unique in any terms as each of them offers very useful features and components. So, once you note down the requirements for your project it will be easy for you to select the perfect admin template.
So, check out the collection and tell us which one you like the most in the comment section below. Also, don't forget to share.