Looking for Laravel Vue admin template free? Then here is the best collection for you.
Well, Laravel is a free, open-source PHP web framework for the development of web applications. The Laravel Admin Panel Template increases the efficiency of web applications and can be helpful to get insights regarding how your web application is performing.
Also, Laravel Admin Panel Template plays a major role in making your project more attractive and eye-catching on the web. So choosing the right admin panel template becomes a more complicated task as you will go through tons of admin panels on the web.
Vue.js is an open-source JavaScript framework for building user interfaces on the web. In comparison to other complex front-end frameworks like Angular, Backbone, React, etc, it is very small and lightweight, and easy to use. You can check the Vuejs admin template if you are working with this framework.
Besides, Vue.js is quickly growing its popularity among developers so as VueJS admin templates. Thus, it is a great choice to build good and functional user interfaces. By using it, you can build fast, responsive, reactive admin dashboards.
Hence, Laravel Vue templates give an opportunity to bring down the best features of both. Thus, we have prepared this list for you so that you don't have to waste your time finding the best Laravel Vue admin template here and there.
You can also check the Material design laravel template and Vuejs material Admin template as well.
Now, let's begin.
Vuexy – Laravel Vue Admin Dashboard Template – is advanced among all bootstrap Vue admin templates. Besides, this template is highly responsive, clean, and well structured.  Vuexy bootstrap Vue admin template is laced with Vuejs, HTML (bootstrap 4), PHP (laravel 8) and React (reactstrap), Angular 11.  Furthermore, this graphically enriched bootstrap template is highly recommended by developers over the world for its user-friendly experience and speed. Also, It is the most developer-friendly Vuejs+HTML dashboard. Which includes 100+cards, 50+ Components, and many more.
In addition, Vuexy is RTL-ready and comes with UI/UX tools alongside many more amazing invaluable features, which make sure developers have the best experience. Moreover, we've also equipped the Vuexy admin template with highly distinctive and useful tools such as fuzzy search, bookmarks, floating nav bar, dark and semi-dark layout options, advance cards, data-table, and charts.
Features:
Based on BootstrapVue
Vue 3 Ready (Composition API)
Bootstrap 4.6.0 🔥
Laravel 8 🤩
Sketch & Figma files added
JWT Auth, ACL
Internationalization/i18n & RTL Ready
CoreUI is meant to be the UX game changer. Besides, Pure & transparent code is devoid of redundant components, so the app is light enough to offer the ultimate user experience. This means mobile devices also, where the navigation is just as easy and intuitive as on a desktop or laptop. Furthermore, The CoreUI Layout API lets you customize your project for almost any device be it Mobile, Web, or WebApp – CoreUI covers them all.
Laravue is a beautiful dashboard combination of Laravel, Vue.js, and the UI Toolkit Element. Besides, With the powerful Laravel framework as the backend, Vue.js as the high performance on the frontend, Laravue appears to be a full-stack solution for an enterprise application level. Furthermore, it provides all necessary components for building an enterprise application for the admin to control business and manage others.
Admin One is a simple, beautiful, and free Laravel admin dashboard (built with Vue.js, Bulma & Buefy). Besides, it includes the following features:
Built for Laravel 8.x (for Laravel 7.x use 1.3 branches)
Fully-styled auth scaffolding
Profile & avatar management with back-end
Full Resource CRUD Sample (with front-end & back-end)
Built with Vue.js, Bulma, Buefy & Laravel Mix
SPA — Single page app
SCSS sources with variables
Free under MIT License
Laramulti Laravel Vue is a fee Laravel Vue admin template. Following are the things the project includes:
How to use Vue Router with Laravel
Install AdminLTE 3
Font Awesome 5 on Laravel
How to Use API in Laravel
API Auth with Laravel Passport
KitElos is a kit that facilitates the start of SPA web application development, providing you with a basic, structured scheme with modules necessary for any application.
This is a Laravel VueJS/Vuetify Powered admin, booting up required components that separate Admin and Front and provide rich tools such as Media Library.
This is a Laravel 8 + Vue 2 + AdminLTE 3 based Curd Starter template.
Features:
Modal based Create+Edit, List with Pagination, Delete with Sweetalert
Login, Register, Forget+Reset Password as default auth
Profile, Update Profile, Change Password, Avatar
Product Management
User Management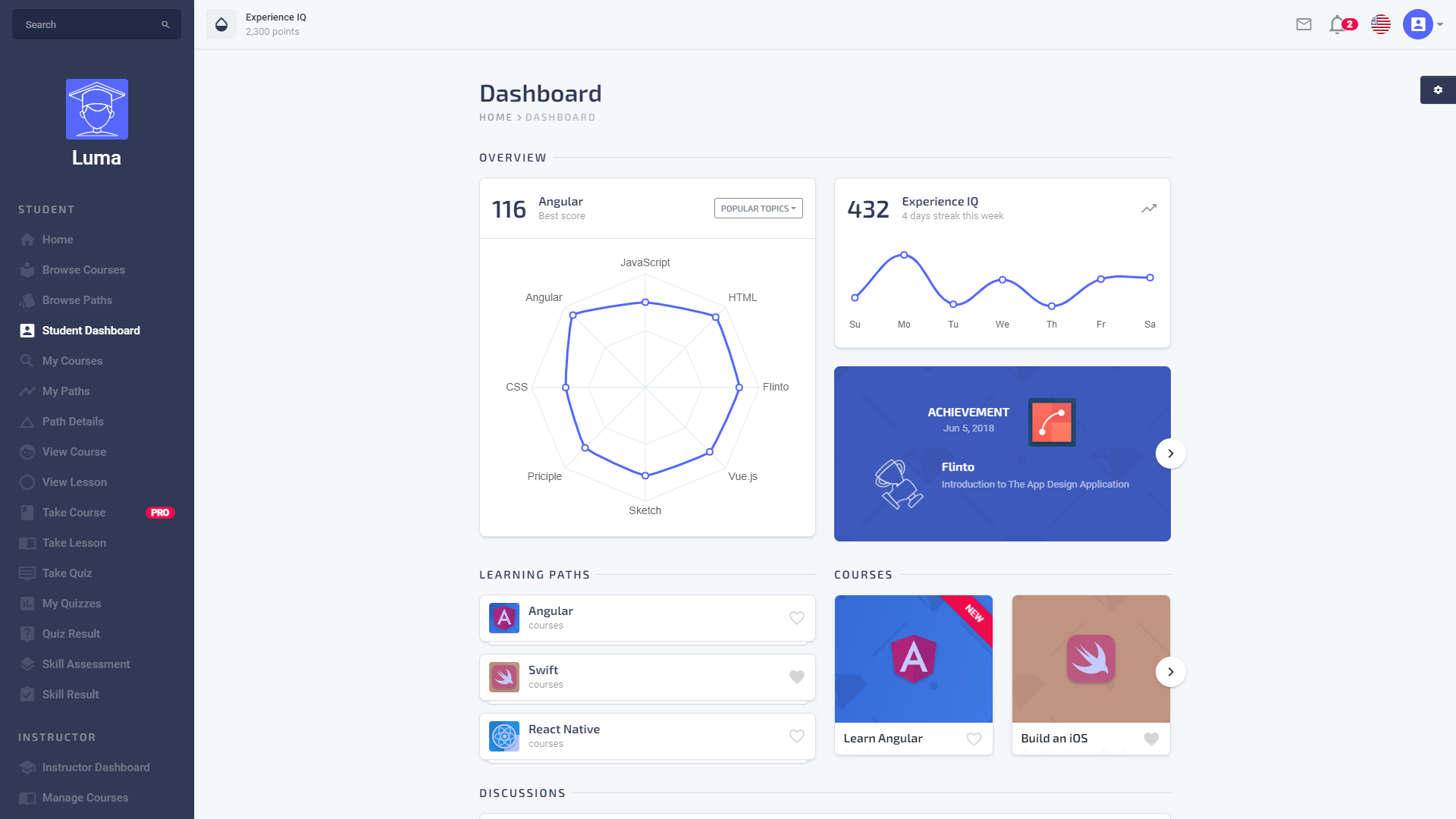 Luma Laravel allows you to quickly build a modern education and learning management system single-page application (SPA) using Vue and server-side routing and controllers powered by a backend running the latest Laravel.
Besides, it includes 48 Unique Education Page Designs and 100+ LMS Components expertly coded in Vue.js, covering anything you may need in your next Education Project. Furthermore, it offers the following features:
Features:
Functional Register, Login, Forgot Password
Inertia.js SPA + Laravel Routing
Pure Vue.js User Interface with 48 Unique Pages all hooked to Inertia.js and 100+ Components
RTL & SEO Optimized
Built with Bootstrap Vue
Styled with Bootstrap 4 SCSS/CSS
Ultra Responsive
Orbiter is minimal and clean Bootstrap Admin Template. It is built with the latest Bootstrap version & the latest Laravel version keeping flexibility in mind. It comes with online documentation to make it easy for developers. Besides, It also has dedicated ultralight demos for CRM, eCommerce, Hospital, Crypto, and School.  Furthermore, It also comes with Vertical, Horizontal, Semi Dark, Boxed, RTL, and Compact layout version is added to it. In addition, it offers the following features.
Features :
Responsive
Multi-Purpose
UI Kits
Creative Widgets
Useful Plugins
Authentication Pages
7+ Icons Sets
100+ Pages
Shreyu is a fully featured premium admin and dashboard template, built using Bootstrap 4.3.1. It comes with tons of carefully designed flexible components, UI elements, application pages, etc. Besides, the theme is fully responsive and works across all modern/supported browsers, devices.
Furthermore, the well-structured code allows easy customization and helps to build a modern web application with great speed. In addition, it can be used to build any modern web application including a saas based interface, custom admin panels, dashboard, CRM, CMS, e-commerce panel, etc.
Features:
Built on the latest bootstrap (v4.3.1)
Multiple navigation layouts and navigation color schemes
Easy customizations with extensive use of SCSS variables
Fully responsive and works across all modern/supported browsers, devices
Easy development and tooling with Gulp workflow
Clear – Bootstrap + VueJS Admin Template is a bootstrap-based admin template for professionals who are looking for a clear and clean admin template.
Features:
Fully Responsive – Thanks to bootstrap
Blazing fast
Clean and modular code – CSS, JS separated properly
Build with SAAS – so you can build a new color scheme easily
Lots of Custom pages
2 Versions
Multiple page layouts
70+ pages
4 Icon Families
Skote is a fully featured premium admin dashboard template in VueJs and Laravel + VueJs with developer-friendly codes. It is based on Vue CLI & Vuex component framework with Firebase and fack-backend authentication and multi-languages supported. We have not used jQuery in this template it's a pure VueJs admin template with reusable components. Sketch files are also available.
VueJS Laravel Admin Template comes with an all-new VueJS Admin Template with different color schemes like default, dark and light color schemes. Besides, VueJS Admin Template is made more powerful by using Vue components like vuex, vue-router, and Axios. By using Axios you can have a weather widget and some other charts. The other main advantage of Vue Admin is Single Page Applications and routing can be done in a simple way without any complex routing libraries, just by using Vue-router.
Vuely is a fully responsive admin template developed with Vuejs 2 and VuetifyJs 1.0.8. Besides, it also comes with lots of pre-integrated features developed with an easy component structure including custom pages. Furthermore, it is developed with an approach to provide the developers a hassle-free development experience.
Also, Pre designed custom pages and integrated features like charts, graphs and data-tables provide you the power to develop your backend panel with ease. In addition,Vuely is translation-ready with RTL support. Furthermore, it also comes with multiple color versions along with dark mode which gives you design flexibility.
Conclusion:
Well, here was the collection of 10+ Best Laravel Vue Admin Template Free. Each one offers unique and useful features.
Now, as we all know, both Vuejs and Laravel are the best frameworks today. So, it is a great idea to use templates that are build using both. Besides, having features that combine the best of these two is highly helpful.
We recommend the Vuexy Laravel Vuejs Admin template for your project. It is a premium template. Although, it is worth purchasing as it is highly developer-friendly and customizable.
Now, after setting up your requirements, pick the right template for your project. We hope you find this collection helpful.