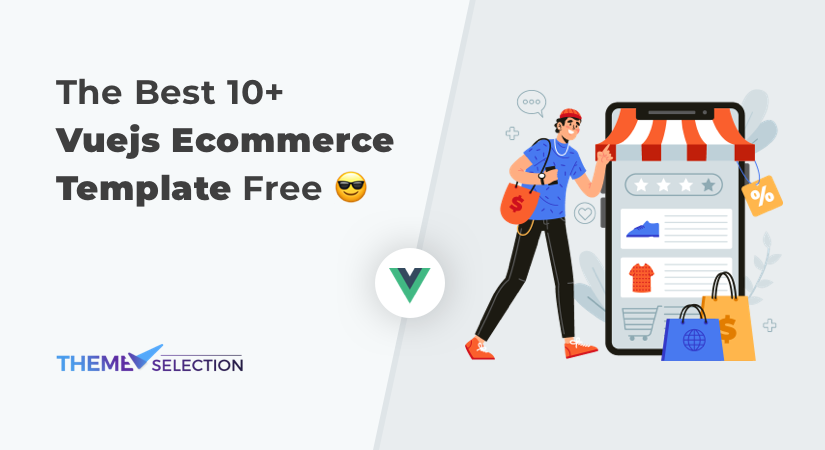 Are you looking for a Vuejs eCommerce template? Then here is the best collection of Vuejs eCommerce template free 2022.
Well, Vue.js is an open-source JavaScript framework for building user interfaces on the web. In comparison to other complex front-end frameworks like Angular, Backbone, React, etc, it is very small and lightweight, and easy to use. This is really a worthy framework for you to consider if you are looking for a Vuejs admin template.
Furthermore, the majority of popular brands trust their web applications with Vue. Hence, it can be a good choice for you to utilize it for your business. In that case, you must pick the most appropriate and free VueJS admin template for your next projects.
Why Ecommerce Admin Templates Are In Demand?
As we all know, in this era, the eCommerce sector is growing like never before and so does the demand for eCommerce templates for websites/applications. Admin dashboards play a crucial role in tracking & monitoring the activities taking place on the website/ application.
If you are planning to design an eCommerce website or application, then it is crucial to select the right admin panel template. It can be a complicated task as it needs in-depth research of admin templates available throughout the web.
While designing the application or website, you have to choose an e-commerce admin panel template that offers essential elements like charts, graphs, tables, and pages like User, Category, product, etc.
VueJS Ecommerce Template
Following are some of the best VueJS Ecommerce admin templates free and premium that you can use for your next eCommerce project.
You can also check some awesome collections of Vuejs Admin Template Free Download, Vue Plugins, VueJS Project Ideas For Beginners, VueJS Examples.
Now, let's hop into the collection of Vuejs eCommerce template free that will help you to build fast, reactive web apps.🔥
Materio Vuetify Vuejs Admin Dashboard Template – is the latest most developer-friendly 🤘🏻 & highly customizable✨ Admin Dashboard Template based on Vuetify. If you're a developer looking for a Vuejs Admin Template that is enriched with features, and highly customizable look no further than the Materio Vuetify Vuejs admin template🤩. Besides, the highest industry standards are considered to bring you one of the best VueJS admin templates that are not just fast 🚀 and easy to use, but highly scalable. Offering ultimate convenience and flexibility, you'll be able to build whatever application you want with very little hassle.
Materio also offers invaluable features that aim to help you create premium quality single-page apps exactly as you imagine them🤘🏻. Furthermore, it comes with unique and useful tools such as fuzzy search, Dark, Semi-Dark & Bordered layout options, Advanced cards, and Charts. In addition, it offers amazing features as follows.
Features:
Pure Vue js, No Jquery Dependency
Created with Vue CLI
Utilizes Vuex, Vue Router, Webpack
Code Splitting, Lazy loading
JWT Authentication
Access Control (ACL)
i18n Page
Multi-lingual Support
2 chart libraries
3 Dashboard
SASS Powered and many more.
Vuexy -Vuejs Ecommerce Template – is advanced among all Vuejs eCommerce admin templates. Besides, this Vuejs eCommerce template is highly responsive, clean, and well structured.  Vuexy bootstrap Vue admin template is laced with Vuejs, HTML (bootstrap 4), PHP (laravel 8) and React (reactstrap), Angular 11.  Furthermore, this graphically enriched Vuejs eCommerce admin template is highly recommended by developers over the world for its user-friendly experience and speed. Also, It is the most developer-friendly Vuejs+HTML dashboard. Which includes 100+cards, 50+ Components, and many more.
In addition, Vuexy is RTL-ready and comes with UI/UX tools alongside many more amazing invaluable features, which make sure developers have the best experience. Moreover, we've also equipped the Vuexy admin template with highly distinctive and useful tools such as fuzzy search, bookmarks, floating nav bar, dark and semi-dark layout options, advance cards, data-table, and charts.
Features:
Based on VueJS
Vue 3 Ready (Composition API)
Bootstrap 4.5.3 🔥
Laravel 8 🤩
Sketch & Figma files added
JWT Auth, ACL
Internationalization/i18n & RTL Ready
Sing App Vue Dashboard is a Vuejs Ecommerce admin template built with Vue JS 2.5.2 and Bootstrap 4. Besides, it is built on the newest development stack of Vue, hence you will not need to learn everything by yourself. Therefore, the Sing App Vue template is a great start if you want to build SASS, E-Commerce, CMS, or CRM platforms. Also,  all essential components are ready to use.
Star Admin Vue template is a perfect Vuejs Ecommerce admin template. It is rich in features and components. Besides, it features a massive collection of elements, icons, buttons, and other essential components.
Furthermore, the template also guarantees a fine user experience across both mobile and desktop devices. Apart from this, it is highly customizable. Thus, in the collection of Vuejs admin templates free download, this one emerges as the best one.
ShipIT is an open-source, modern clothing website template for online fashion & apparel stores based on Vuetify.
Vuemmerce is a responsive eCommerce template built with Vue.js and Nuxt.js
Materio Free Vuetify VueJS Laravel Admin Template – is the most developer-friendly & highly customizable free vuejs eCommerce admin template based on popular front-end framework VueJS and back-end  Laravel. Also, If you're a developer looking for a developer-friendly, rich with features, and highly customizable admin template, then look no further than Materio. Besides, the highest industry standards are followed to bring you one of the very best laravel admin templates. Furthermore, it is not only fast and easy to use but highly scalable. Also, this vue js eCommerce admin template offers ultimate convenience and flexibility. So, you'll be able to build whatever application you want with very little hassle.
In addition, you can build premium-quality single-page applications with ease with the use of this laravel admin template open source. Thus, use this innovative laravel vue admin template free to create eye-catching, high-quality, and high-performing single-page applications. Thus, do try this amazing and free laravel vuejs admin panel dashboard template.
Features:
Pure Vue js
Utilizes Vuex, Vue Router, Webpack
1 Dashboard
Material Icons
Basic cards
Fully Responsive Layout
Organized Folder Structure
Clean & Commented Code
Vue ecom is an E-commerce template made with bootstrap4 and Vue/Vuex/Vue-router.
The dark theme dashboard Corona Vue admin template has a modern, simple, and elegant design. The template also contains several neatly arranged components.
Badges, Alerts, Buttons, Tabs, and more
Charts and Table for Data representation
Huge collection of icons
Well-designed Error, Ecommerce, General, and User Pages
E-mail, Calendar, To-do list, and more
Vuely is a fully responsive admin template developed with Vuejs and VuetifyJs. In recent updates, we are now providing it with Laraval, Laraval Passport Authentications, Express js, and Angular 10 versions. It comes with lots of pre-integrated features developed with an easy component structure including custom pages. It is developed with an approach to provide the developers with a hassle-free development experience.
Pre-designed custom pages and integrated features like charts, graphs, and data tables provide you the power to develop your backend panel with ease. Vuely is translation-ready with RTL support, it also comes with multiple color versions along with dark mode which gives you design flexibility. Vuely has tons of dashboards for every industry like Ecommerce, CRM, Crypto, Web Analytics, Courses, Magazine, News, Agency, SAAS, and their helping pages as well.
Vue – Clean, Minimal eCommerce HTML5 Template for multipurpose (Fashion, apparel, sunglasses, accessories, mega store, watch, cosmetic, clothes, bag, bag store, cosmetic, fashion template, Multipurpose template, watch store).
Furthermore, the HTML5 file is designed on a grid and can be easily converted into responsive WordPress, Magento, Woocommerce, Opencart, Shopify, Drupal, Joomla, and other systems.
There is no doubt that Vue will make your work look more impressive and attractive to viewers.
This is highly customizable – looks awesome on tablets and mobile devices. We have included best practices of web development – you can create a great website layout based on Bootstrap or Grid 1170px.
Based on Bootstrap 4.x
100% Responsive
Nice and Clean Design
Clean and commented code
Valid HTML5 / CSS3
37+ All Pages
5+ Home Pages
10+ Blog Pages
Porto VueJS eCommerce admin template is the ultimate eCommerce solution. It is built with VueJS, NuxtJS, VueX, Strapi, SCSS. It has all the required tools and features to create a super-fast responsive eCommerce with an amazing UI and UX experience. 40+ demo layouts and modern design-based skins allow you to create your own niche store. You can avoid expensive web development and minimize your design costs using the Porto VueJS eCommerce template.
E-commerce Functions:
Sell Simple & Variable Products
Magic Color, Label, Image Swatch
Graceful Product Quickview Popup
Product Filters(size, color, categories, etc)
Product Deals Countdown
Wishlist and Compare Feature
Vue Material Template is an admin dashboard theme built with Vuetify framework and Material design system. jQuery and Bootstrap free! Besides, it is a great start to building your next web application using cutting-edge technologies such as Vue, Vuetify, and Vue Router. Moreover, you will constantly receive updates from our team and stay up-to-date with the Vue ecosystem.
Features:
Three color themes and dark mode
Based on Vuetify
No jQuery and Bootstrap
Vue 2.6.11
Vue Router
Various Charts Libraries including Highcharts
Nazox is a fully featured premium admin dashboard template in Vuejs with developer-friendly codes. Starterkit is also available. Besides, it is a beautifully crafted, clean & minimal designed admin template with Dark, Light Layouts with RTL options. You can build any type of web application like Saas based interface, eCommerce, CRM, CMS, Project management apps, Admin Panels, etc
Features:
Fully Responsive Layout
SASS Powered
Sketch Files Available
Clean & Well Commented Codes
W3C Validated Code
Box Icons
Chat, E-Commerce Product, Orders, Customers, Cart, Checkout, Shops Pages
MyMedi Vue template built with VueJS, NuxtJS, VuetifyJS, Sass, and Bootstrap 4. Besides, you can use this Vuejs eCommerce template for shopping online stores. In addition, it includes a lot of pre-designed layouts for the home page, product page to give you the best selections in customization.  Also, MyMedi is suitable for other eCommerce websites such as fashion, electronic, organic, sneaker, shoes, glasses, accessories, supermarket, or anything you want.
E-commerce Functions:
Sell Simple or Variable Products
Sell External / Affiliate Products
Unlimted Categories & Sub-Categories
Filter Products (eg by size, color, brands, categories, etc.)
Optional Wishlist & Compare
product Deals countdown
VueJS Laravel Admin Template is a VueJS admin template based on VueJS, Laravel 5.4, and Bootstrap 4. Besides, the template has a clean, simple, and flat design. Furthermore, it uses a light-shaded color palette, supports multiple layouts, and has multiple color skins. The e-commerce pages include a dedicated dashboard other than the main landing page, a product details page, a product edit page, and a product gallery.
Other than that, the pricing table and invoice page are also given in the extra pages. There are multiple plugins used for including the advanced UI elements and data representation. VueJS Laravel Admin Template is a premium template. The template is compatible with most modern browsers and has a responsive layout. The template is well supported and well-documented.
Conclusion:
We have collected some of the best Vuejs eCommerce template free and premium ones. These are ready-to-use and highly responsive eCommerce template that you can use on your Vuejs e-commerce web application.
Besides, each eCommerce admin panel template includes the features that an e-commerce website should have along with elegant design and accuracy of delivering the best user experience. Although we will recommend you to check the Materio Vuetify Vuejs Admin Template and Vyexy admin template as it has the best features and design, also it will be suitable for your project.
We have prepared this great collection of eCommerce admin template free and premium after going through a lot of research. Besides, We chose the templates by going through different parameters like Design, User Experience, Responsiveness, Customizability, Flexibility, framework versions, etc. So that you can get the best admin template for the E-commerce web app.
Furthermore, this collection of eCommerce admin panel template free and premium includes a list of well-balanced admin templates that offers essential features and e-commerce pages needed to design e-commerce web apps.