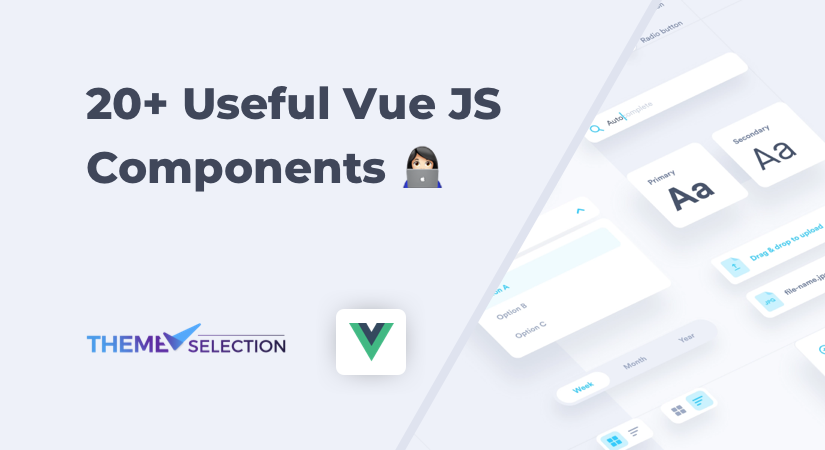 Want to make your vuejs based app's interface unique and appealing? Then here is the collection of Vue js Components that you can use for your upcoming VueJS project. These UI components vue will help you develop visually appealing and interactive vuejs apps.
Well, UI components are the most integral part of a software application, regardless of whether it's a mobile, web, desktop, or Augmented Reality or Virtual Reality app. UI elements are the core building blocks for all applications.
They are responsible for interactions between the user and the application. They are what allows for effective user navigation and input/output data, to name but just two core functionalities.
Before we start the collection of Vue JS Components, let's take an overview of VueJS in short.
What is VueJS?
VueJS is a progressive framework for building user interfaces. Besides, it is designed from the ground, and can easily be a library and a framework depending on your goals. Furthermore, it also consists of a core library that focuses on the view layer and an ecosystem of supporting libraries. Also, It is used by big companies such as Gitlab, Alibaba, Xiaomi, Adobe, Euronews, Nintendo, Grammarly, Codeship, Behance, and many more.
Well, Vue took the best features of other libraries such as two-way data binding & directives from Angular, virtual DOM implementation, templating syntax from React. Besides, the setup is quite simple. These factors make using Vue.js very comfortable.
Furthermore, Vue continues to grow in popularity and is rapidly being adopted by many developers, and Vue.js tools are popping up everywhere. This is not without reason: Vue's easy learning curve, excellent documentation, and clear functionality-driven structure, make it easy for newbies to pick it up, and for more experienced developers to make a switch from other frameworks like React or Angular.
Features:
Virtual DOM
Data Binding
Components
Event Handling
Animation/Transition
Computed Properties
Templates
Directives
What are UI components?
Well, UI components are used to represent distinct UI elements, such as tables, notifications, time, date, maps, buttons, and others. They are designed for simple and flexible user interface (UI) rendering. UI Components make the user interface unique and appealing. Using components saves a lot of time as you don't need to start from scratch.
User interface (UI) design looks at the aspects of how each User Interface element of the product looks, which includes placeholders, buttons, text, checkboxes, images, and so on. Basically, any visual interface elements that people interact with.
And it is the Job of a User Interface (UI) Designer to Design the UI of a digital product, which they do with the help of key User interface (UI) elements.  Furthermore, a User Interface (UI) Designer is required to make the interface user-friendly and easy to understand.
Before we start the list, you can check some collections:  VueJS Admin Template Free Download, Vue Devtools, and  Vuejs Datatable.
While working with Vuejs, you can check Materio Free VueJS Vuetify Admin Dashboard Template. It is the latest most developer-friendly 🤘🏻 & highly customizable✨ Admin Dashboard Template based on Vuetify. Besides, it offers ultimate convenience and flexibility. So, you'll be able to build whatever application you want with very little hassle.
Furthermore, you can use this one of the best innovative free Vuejs admin templates to create eye-catching, high-quality, and high-performing single-page applications. Besides, your apps will be completely responsive, ensuring they'll look stunning and function flawlessly on desktops, tablets, and mobile devices.
Features:
1 Simple Dashboard, 1 Chart Library
Single vertical menu
Simple Light/Dark theme
Basic Cards, pages, and tables
Simple From Elements⚡
Single vertical menu
Also available in Laravel Version:

Vue JS Components:
Well, User interface (UI) components are the parts that are used to build web apps or websites. They add interactivity to a user interface, providing touchpoints for the user as they navigate their way around; think buttons, scrollbars, menu items, and checkboxes. Besides, UI components help to create user-friendly and easy-to-navigate apps/ websites without too much thought on the user's part.
Basically, there is 4 key UI components type as listed below:
Input Controls: checkboxes, radio buttons, dropdown lists, list boxes, buttons, toggles, text fields, date field
Navigational Components: breadcrumb, slider, search field, pagination, slider, tags, icons
Informational Components: tooltips, icons, progress bar, notifications, message boxes, modal windows
Containers: accordion
In this collection, we'll explore some of the most common vue js components. You can bookmark the collection: VueJS UI Components Libraries that offers some of the amazing vue js components.
Table: Tables / data grids
Vue Tables 2 aims to give developers a fully-featured tool-set for creating beautiful and useful data tables with Vue.js. Besides, hundreds of commercial software applications are using it. Furthermore, Vue Tables 2 is constantly growing, improving, and also getting new features. Thus, you can keep this one in check.
Premium Features:
Selectable rows and Sticky Headers
Also, Virtual Pagination
Download CSV of client component data
Multiple-level grouping with data layer backing
Tailwind theme
A Vue.js wrapper for the Handsontable spreadsheet component. Handsontable's wrapper for Vue combines data grid features with spreadsheet-like UX. Besides, it also provides data binding, data validation, filtering, sorting, and CRUD operations.
Furthermore, it works for React, Angular, and Vue. Moreover, Handsontable is a JavaScript component that combines data grid features with spreadsheet-like UX. In addition, It also provides data binding, data validation, filtering, sorting, and CRUD operations. Therefore, don't hesitate to use this one.
Features:
Multiple column sorting
Non-contiguous selection
Filtering data and Validating data
Export to file
Conditional formatting
Merging cells
Hiding rows/columns
Context menu and Comments
Vue adaptor for ag-Grid.
AG Grid is a fully-featured and highly customizable JavaScript data grid.  Besides, it also delivers outstanding performance. Furthermore, it has no third-party dependencies, and integrates smoothly with all major JavaScript frameworks.
It is a powerful table component based on Vue2. x.  Besides, it supports Virtual Scroll, Column Fixed, Header Fixed, Header Grouping, Filter, Sort, Cell Ellipsis, Row Expand, Row Checkbox.
Features:
Easy to use and Powerful
Also, Unit test coverage is greater than 85%
Supports:
Internationalization
Theme Custom
Built-in theme
Column Fixed
Header Fixed
Header Grouping and many more
Vue good table is an easy-to-use powerful data table for Vuejs with advanced customizations including sorting, column filtering, pagination, grouping, etc. Besides, it is highly customizable.
Features:
Table Search and Sorting
Column Filtering and Pagination
Checkbox Table
Grouped Rows Table
Server Powered Table
Customizable Style and Themes
Notification:
Toaster / snackbar Notify the user with a modeless temporary popup
It offers light, easy and beautiful toasts. Besides, it has built-in Nuxt support. Furthermore, it also has support for the new Composition API and Vue 3. In addition, it is easy to set up for real, you can make it work in less than 10sec! In addition, you can use your custom components or JSX as the toast body for endless possibilities. Also, generic registration allows it to be used inside any app, even React
Features:
Fully written in Typescript with full types support
RTL support
Customize everything
Swipe to close
Create custom experiences with onClose, onClick, and onMounted hooks
Custom toast filtering and enqueueing with lifecycle hooks
Also, removes and updates toasts programmatically
Vue Toasted is one of the best toast plugins available for VueJS. Besides, it's used by VueJS, Laravel, NuxtJS and trusted by many more organizations. Furthermore, it's responsive, touch compatible, easy to use, attractive, and feature-rich with icons, actions, and more!
This is a Vue.js agnostic non-blocking notifications library.
Vue.js 2+ notification plugin using Velocity for animations.
Vue awesome Notifications is a lightweight, fully customizable JavaScript notifications library with enhanced async support.
Loader: 
Loaders/spinners/progress bars  Let the user know that something is loading.
It is a complex Loader Management for Vue/Vuex and Nuxt applications. Besides, Vue-wait also helps to manage multiple loading states on the page without any conflict. In addition, it's based on a very simple idea that manages an array (or Vuex store optionally) with multiple loading states. Furthermore, the built-in loader component also listens to its registered loader and immediately becomes a loading state.
Loading inside a container or full screen for Vue.js.
It is a loading component inside a container or full screen for Vue.js. Besides, it is completely customizable. Also, you can change the colors, speed, and sizes. Furthermore, you can also create your own loading by using the online tool to create your custom loader easily. In addition, it also offers pure functional components.
You can also use it right now: there are a lot of presets already
Tree-shakable and highly optimized bundle
Besides, it is Pure SVG, so it also works without any javascript, canvas, etc
Easy to use CSS spinners collection with vue.js integration.
A radial progress bar component for Vue.js. Uses SVG and javascript to animate a radial progress bar with a gradient.
Icons:
Simply beautiful open source icons as Vue functional components.
Font Awesome component for Vue.js, using inline SVG.
Font Awesome 5 Vue component.
Feather component for Vue.js.
A collection of SVG Material Design icons as single file components. Besides, this library is a collection of Vue single-file components to render Material Design Icons. Furthermore, it also includes some CSS that helps make the scaling of the icons a little easier.
Charts:
Vue.js wrapper for ApexCharts to build interactive visualizations in vue.
ECharts component for Vue.js.
Vue.js wrapper for Chart.js.
Chart components based on Vue2.x and Echarts. It is also highly customizable. Besides, it also provides a variety of custom Echarts ways. Thus, you can easily set the chart options.
Features:
Uniform data format
Simplified configuration
Time:
Vue 3 Timer module inspired by react-timer-hook. Besides, it is a custom hook, built to handle timer, stopwatch, and time logic/state in your vue 3 component.
Countdown plug-in with high performance and high accuracy for Vue 2.5.0+.
Just a simple horizontal timeline component made with Vue.js.
Handy Moment.js filters for your Vue.js project.
Map:
Vue 2 Leaflet is a JavaScript library for the Vue framework that wraps Leaflet making it easy to create reactive maps.
Google maps component for vue with 2-way data binding.
Vue 2.x & Vue 3.x components for Cesium.
Features:
Vue 3.0 Composition API
Written in TypeScript
IntelliSense for vetur
Vue 3 components to work with Open Layers.
Conclusion:
So, here was the collection of useful Vue JS Components that you can use in your upcoming vuejs app.
Well, using these Vue JS Components in your next project will help you develop awesome and appealing web apps. Using such components is always beneficial as you don't need to start from the beginning.
Furthermore, you can also take the help of VueJS UI component libraries that offers amazing vue js components. So, choose any of these components in your app as per your need and requirements.
We hope you find this collection helpful. Do let us know which vue js components you are using more often. Also, don't forget to share this collection.