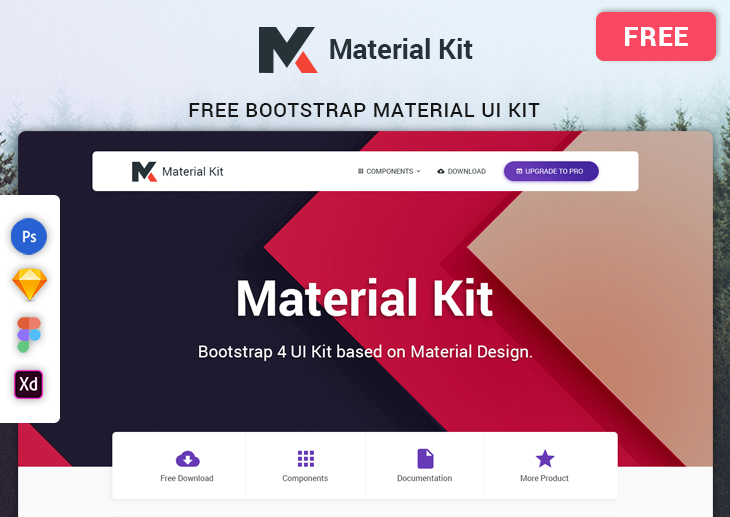 Free Material Design UI Kit is a Bootstrap 4 UI Kit with a modern, new design inspired by Google's material design.
This kit features some additions that extend the normal Bootstrap components with exciting new features and web elements that are surely going to spice things up in your designs.
The first impressions are clear, the kit is going to add more creativity to your designs, the look of the component designs becomes more mature, and in turn more modern and appealing.
Available in : PSD, Sketch, Figma, Adobe XD
Components 
Buttons :
Many different sizes
Many different variations
Material Design With Material Color
Dropdowns :
Carousel :
The carousel is a smooth slideshow for cycling through a series of content.
Notification :
Notification design is very unique and different variant.
You can use for different type of notification.
Breadcrumbs :
Breadcrumbs design it comes with 2 different variants.
Both variants look like a material and clean design.
Badge :
Contextual variations badge.
Input Fields :
We provide 4 different type of inputs.
Minimal & flat Design.
Checkbox & Radio Buttons :
Simple & Clean design with unique style.
Switches & Sliders :
Swiche comes with a flat design & shadow option.
Sliders come with the simple clean design.
Typography :
Typography fonts come with Roboto font.
We provided 8 type of typography scale category with a color variant.
Images / Thumbnails :
We provided rounded & circle style images.
The images come with shadow option.
Javascript Components :
We provided 3 type of javascript components like a modal pop-up, popovers, tooltips.
Navigation Tabs :
Navigation comes with 2 unique & modern design.
Navigation looks very decent in gradient color with shadow effect.
Also, Navigation comes with icon tabs.
Menu :
The menu comes with 5 unique styles.
The menu comes with the icon, with button, with the search option, & notification.
Pagination :
We provide Pagination with 2 styles rounded and circle style.
Progress bar :
Progress bar comes with a simple & flat design.
Completed with examples :
We provide pricing table with very unique and gradient design.
Easy to use.