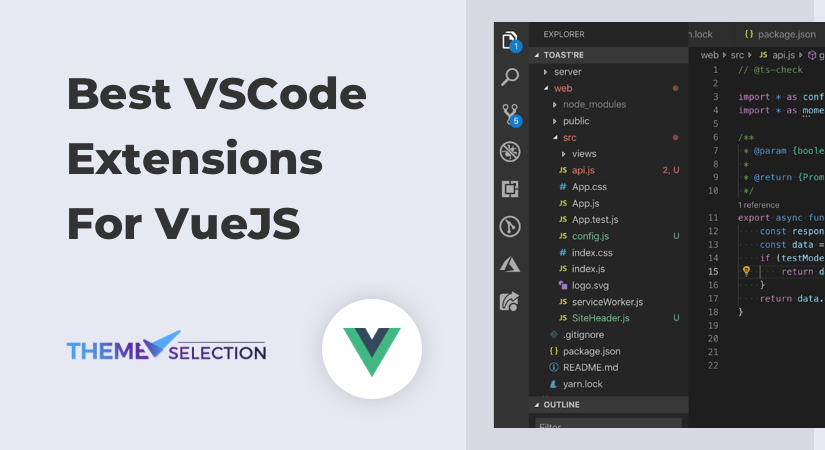 Are you looking for the amazing VSCode extensions for VueJS for your upcoming Vuejs based web app? Then Here is the amazing collection of the best vuejs vscode extensions of 2021.
What Is VSCode Extension?
VS Code extensions are essential in modern web development. They are basically a source code editor for building modern web applications. It is a free and open-source editor. Furthermore, It supports a huge number of extensions that can be used for web app development.
VS Code extensions let you add debuggers, languages, and tools to your installation in order to support your development workflow. Their rich extensibility model lets extension authors plug directly into the VS Code UI and contribute functionality through the same APIs used by VS Code.
So, to help you choose the right extensions that will add more value than the resources they draw from your system, we've made this list of the best trending vscode vuejs extensions available today. While some of these are well-known and commonly installed, others are highly recommended extensions by experienced developers who use Visual Studio Code.
One of the best features of Visual Studio Code is the tons of extensions offered by the marketplace. Mostly, these extensions were customized to meet your needs. Adding the right VS Code Extensions to Visual Studio can make your life as a developer so much easier.
Advantages of Using VSCode Extensions:
VSCode Extensions help with the following tasks:
Formatting
Scalability
Enforcing best practices
Automate and many of the forgettable tasks in our dev process.
You can also use Materio Vuetify Vuejs Admin Dashboard Template. It is the latest most developer-friendly 🤘🏻 & highly customizable✨ Admin Dashboard Template based on Vuetify. If you're looking for a Vuejs Admin Template that is enriched with features, and highly customizable look no further than the Materio🤩. Besides, the highest industry standards are considered to bring you one of the best Vuetify admin templates that are not just fast 🚀 and easy to use, but highly scalable.
Materio also offers invaluable features that aim to help you create premium quality single-page apps exactly as you imagine them🤘🏻. Furthermore, it comes with unique and useful tools such as fuzzy search, Dark, Semi-Dark & Bordered layout options, Advanced cards, and Charts. In addition, it offers amazing features as follows.
Features:
Pure Vue js, No Jquery Dependency
Created with Vue CLI
Utilizes Vuex, Vue Router, Webpack
Code Splitting, Lazy loading
JWT Authentication
Access Control (ACL)
Also Available in Laravel Version:

Best VSCode Extensions For VueJS:
While working with VueJS Projects you can keep some useful collections to save your time: Vuejs Admin Template Free Download, Testing VueJS Application, VueJS UI component library
Now, let's start the collection of Best VSCode Extensions For VueJS In 2021. In this collection, you'll get to know about some of the best Vue js Visual Studio Code extensions. These VS Code extensions for vuejs developers are extremely useful and will boost your workflow.
ESLint statically analyzes your code to quickly find problems. Besides, it is built into most text editors and you can run ESLint as part of your continuous integration pipeline. ESLint fixes are syntax-aware so you won't experience errors introduced by traditional find-and-replace algorithms.
Now, as we know, ESLint is one of the most popular linter tools that help keep your code consistent with best practices and readable across large codebases. VueJS has its own ESLint Plugin to check the syntax of single-file components. It's one of the best tools for writing maintainable and scalable code. ESLint can help you stay organized, and with increasing support for Vue3, you'll be writing scalable Vue projects.
This plugin allows us to check the <template> and <script> of .vue files with ESLint, as well as Vue code in .js files.
ESLint editor integrations are useful to check your code in real-time
It is an opinionated code formatter. It enforces a consistent style by parsing your code and re-printing it with its own rules that take the maximum line length into account, wrapping code when necessary.
This is a very useful plugin. It adds Git capabilities built into Visual Studio Code — Visualize code authorship at a glance via Git blame annotations and code lens and many more things.
GitLens simply helps you better understand code. Quickly glimpse into whom, why, and when a line or code block was changed. Besides, it let you explore the history and evolution of a codebase effortlessly. GitLens is powerful, feature-rich, and highly customizable to meet your needs.
GitLens supercharges the Git capabilities built into Visual Studio Code. It also helps you to visualize code authorship at a glance via Git blame annotations and code lens, seamlessly navigate and explore Git repositories, gain valuable insights via powerful comparison commands, and so much more.
Features:
Revision Navigation
Current Line Blame
Status Bar Blame
Hovers
Gutter Blame
SideBar Views
Terminal Links and many more
A Vue tooling kit for VS Code provides Vue-specific syntax highlighting, snippets for common snippets, and so much more than every Vue developer needs. Vetur is very well maintained it even comes with Vue3 Typescript support. It'll make your development so much better.
This is the most useful plugin for Vue.js development. This plugin is specific to vue.js development. It has Syntax-highlighting, Snippet support, Formatting, lots of Framework Support, and more.
Features:
Syntax-highlighting
Semantic-highlighting
Snippet
Emmet
Linting / Error Checking
Formatting
IntelliSense
Debugging
Auto Rename Tag is a useful VSCode extension that will help prevent errors in your template code. Whenever you go to change one tag of an HTML bracket pair (either the opening or closing tag), Auto Rename Tag will automatically rename the other one. This small optimization can help prevent so many errors, especially when you're dealing with large templates.
Features:
When you rename one HTML/XML tag, automatically rename the paired HTML/XML tag
NPM Intellisense autocompletes your npm modules whenever you write import statements in your Javascript. This can save you time from remembering the exact name of an npm module. I've used it in many of my projects and it's definitely just been something that I've become so accustomed to.
Features:
Import command
Scan devDependencies,
Show build in (local) libs
Lookup package.json recursive
This VSCode Extension by Sarah Drasner will save you so much time in development. Vue VSCode Snippets focuses on developer ergonomics from the point of Vue of real-world use.
Place anchors within comments or strings to place bookmarks within the context of your code. You can use anchors track TODOs, write notes, create foldable sections, or build simple navigation making it easier to navigate your files.
Anchors can be viewed for the current file, or throughout the entire workspace, using an easy-to-use sidebar. Comment Anchors provides many configuration options, allowing you to tailor this extension to your personal workflow, and increase productivity. Check below for a complete list of features.
Features:
Place anchors in any file for any language
Click an anchor in the anchor list to scroll it into view
Customizable Anchor names, colors, highlight colors, and much more
Quickly toggle tag visibility with commands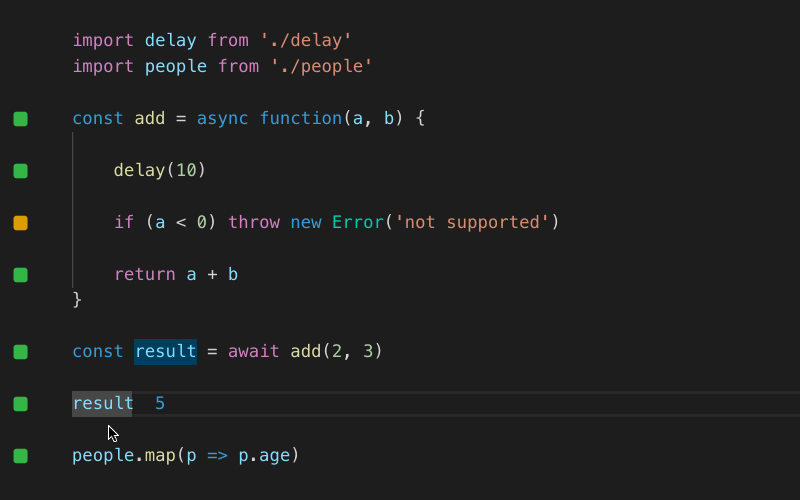 Quokka.js is a developer productivity tool for rapid JavaScript / TypeScript prototyping. Runtime values are updated and displayed in your IDE next to your code, as you type. It makes prototyping, learning, and testing JavaScript / TypeScript blazingly fast. By default no config is necessary, simply open a new Quokka file and start experimenting.
Generally, when we want to do some stuff in JavaScript we will go to either jsbin or jsfiddle or codepan. But this plugin gives the same thing in VS Code itself.
This VS Code VueJS extension contains code snippets for JavaScript in ES6 syntax for Vs Code editor (supports both JavaScript and typescript.)
As per the latest update, it is not built-in vs code although a good and fast extension that can help you. This extension allows matching brackets to be identified with colors. The user can define which tokens to match, and which colors to use.
Conclusion:
So, here was the collection of The Best VSCode Extensions For VueJS in 2021.
There is no doubt that Visual Studio Code is the best code editor out there at the moment. One of the best features is the Market Place offering tons of extensions to customize it exactly to your needs and helping you in writing high-quality code.
Each extension offers unique features. Thus, first, list down your requirements and then select the appropriate one for your next vuejs project.
We hope this collection helps you with vscode vuejs extensions. Do tell us your favorite one in the comment section below.